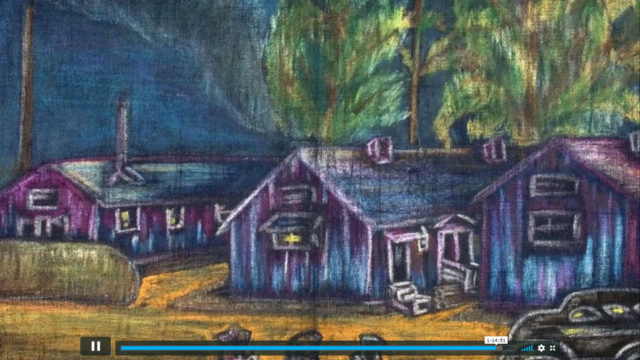 by David Yamaguchi, The North American Post
The films of the "Tadaima! Community Virtual Pilgrimage" series, an extension of the Japanese American Memorial Pilgrimages website (www.jampilgrimages.com/film-festival), have been so fascinating, it is well worth expanding our coverage of this topic from last issue. As I could not possibly view all of the 60 JA-themed films posted during June 14-Aug. 16, I describe below five more of the titles I watched and recommend. My goal is to put brief summaries in a place where Seattle readers can find them, as the film-festival pages are being taken down from the JA pilgrimages website. Individuals may then follow up on watching the films on their own, either online or from libraries.
Note that my limited coverage here does not mean that other films in the series were bad. It simply means that the films below were new to me, that I managed to watch them, and like them.
The Empty Chair (Greg Chaney, 2015, 73 min., unrated) tells the story of Japanese-American families in Juneau, Alaska. A small town in the 1940s where everyone knew everyone, it rallies behind its JAs, even as it could not stop their being sent to internment camps. The title refers to the chair left at the 1942 high school graduation ceremony for class valedictorian John Tanaka—brother of Mary Abo (NAP, June 26)—who was gone by then.
"Mixed Match" (Jeff Chiba Stearns, 2016, 95 min., imdb.com rating, 8.4 from 15 reviewers) follows the behind-the-scenes journeys of hapa Asian-Americans who have the bad luck of getting leukemia and find themselves in need of bone-marrow transplants. It is here that they must confront their mixed ethnicities head-on, for unlike blood, for which there are only four types for all humanity, bone-marrow haplotypes (varieties) are race-specific. Moreover, as there are many haplotypes within each ethnic group, hapas seeking matches find themselves facing "one in a million" odds of finding suitable donors.
The film also follows one donor, from signing up and submitting cheek swabs at a fair booth, to her showing up at the hospital to have her marrow withdrawn from two small holes poked into the back of her hips.
Her advice: don't sign up to be a donor to "be cool in front of your friends" at a cultural event.
"You need to be excited" about getting the phone call that could potentially save a person's life.
A hapa Caucasian/Japanese young person might only have three potential US donors on the list, of which half chicken out, last minute. If you do so, you will break their heart, and make them lose hope.
"The Registry" (Bill Kubota, Steve Ozone, 2018, 57 min., unrated) describes the efforts of two aged Nisei veterans to complete the list of 6,000 Nisei who served as US Army linguists during and after World War II, for the benefit of future JA generations. The problem is that the US Army, recorded only the last names and first initials of these soldiers. Thus, the service records of many linguists with common family names—such as K. Sato or S. Ito—are doomed to oblivion.
"The Registry" is now streaming on pbs.org.
"Relocation, Arkansas, Aftermath of Incarceration" (2016, Vivienne Schiffer, 81 min., imdb 7.8/5)" introduces us to the mother/journalist-son pair of Alice and Paul Takemoto. Her tough Rohwer internment camp and postwar, East Coast life are outlined in the book, "Nisei Memories" (Paul Takemoto, 2006, UW Press).   
"A Vanished Dream, Wartime Story of My Japanese Grandfather" (NHK World Series, 2019, 50 min.) follows "Black" photojournalist Regina Boone, of the Richmond Free Press, Virginia, in her quest to find out what became of her grandfather. He was arrested by the FBI in Dec. 1941, and after a few letters, vanished.
"Black" above is in quotes, for Boone's grandfather was Issei Tsuruji Miyazaki, from Nagasaki, who was innocently operating a popular yakisoba restaurant in the Black part of Suffolk, rural Virginia, until his arrest.
The film is online at the NHK World site until March 2021: https://www3.nhk.or.jp/nhkworld/en/ondemand/video/3016040/
The NHK production of this story is one clue to its excellence, for the Japanese NHK is like our PBS. If they decide to follow a story, cost is no object, and they are willing to chase it internationally.
A few general comments on the above films are merited. The first is that they parallel recent World War II films such as "Hacksaw Ridge" (2016), "Dunkirk" (2017), and "Greyhound" (Tom Hanks, 2020). Even though the war ended 75 years ago this month, there are still aspects of it, and of its JA-internment, about which the average American and JA know little.
Second, most of the newer films continue to capture poignant, first-hand narratives. All would have been lost had not the filmmakers sought out key contacts who are still alive to interview.
Third, the films capture aspects of the internment far from mainstream West Coast stories like those of Bainbridge and Seattle, Manzanar and Minidoka. Until now, we could not possibly know that the Rohwer site only obtained National Historic Landmark status through the dogged persistence of an Italian-American, who recognized its historical value. We could not see the charming Nisei mother of "Nisei Memories" play the piano like an angel descended from heaven. We could not understand that yakisoba was soul food in Issei time.
Fourth, many families were deeply mentally scarred by the internment and their later settlement inland. While 110,000 JA's left the West Coast, and another 10,000 were born in camp, only 80,000 returned to the coast. Those not among the latter, in their striving to be "true Americans" in the heartlands, lost a great deal of themselves in the process. The angst is visible in the faces and narratives of their Sansei progeny, who grew up hating being JA. They interview today with downcast and tearful eyes. They are only now learning to be comfortable in their skin.
In any case, the Issei and Nisei looking down from the heavens would be proud to know that their life stories continue to be researched, told well, and viewed and discussed with admiration and appreciation by Sansei and Yonsei. Moreover, we sit with notebooks and pens in hand, so that we might better share what we saw.
Tadaima! A Community Virtual Pilgrimage
"Tadaima! A Community Virtual Pilgrimage" is a collaborative undertaking, involving representatives from many different contingents of the Nikkei community, as well as scholars, artists, and educators committed to actively memorializing the history of Japanese incarceration during World War II. This online event is free and open to public. Register to enjoy the program at: https://www.jampilgrimages.com/virtualpilgrimageregistration
Week 1: Immigration & Arrival Histories
Week 2: Anti-Asian Racism and Propaganda
Week 3: Forced Removal, Incarceration, Movement (1941-1943)
Week 4: A Question of Loyalty
Week 5: What is Citizenship?
Week 6: Nikkei Incarceration in Canada, Latin America, & Australia
Week 7: Resettlement
Week 8: End of the War
Week 9: Intergenerational Trauma, Reconciliatory History, Nikkei Identities Interspersed
throughout: Preservation Updates, Site Tours, Community Memories & Elder Panel