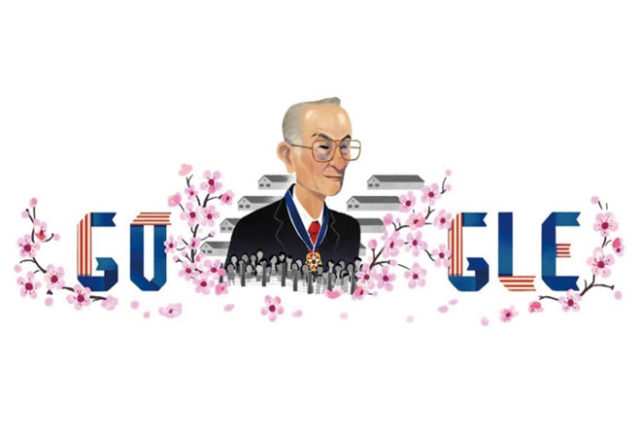 By Dana S. Mar
The North American Post
Monday, January 30, would have been Fred T. Korematsu's 98th birthday. This year, it marked the 7th Fred Korematsu Day since former California Gov. Arnold Schwarzenegger declared it in 2010. Fred Korematsu Day of Civil Liberties and the Constitution, the first day named for an Asian American, is now also recognized in Hawaii, Virginia and Florida.
The Korematsu v. United States case in 1944 ruled that the exclusion order and subsequent incarceration of persons of Japanese descent living along the West Coast were constitutional. President Franklin Roosevelt, at the time, had signed Executive Order 9066, which authorized the incarceration of about 120,000 Japanese descendants as well as 11,000 persons of German ancestry and 3,000 of Italian ancestry. Korematsu's conviction for evading incarceration was overturned on November 10, 1983 and he was awarded the Presidential Medal of Freedom in 1998.
Korematsu v. United States has been cited as a reason for which current U.S. President Donald Trump issued an executive order that suspends entry to the U.S. from countries specified by the Department of Homeland Security including Muslim-majority countries Iraq, Syria, Sudan, Iran, Somalia, Libya and Yemen.
"Japanese American incarceration didn't happen overnight. It happened after decades of vilification, legal measures, and discrimination, much like what Muslim immigrants, refugees, and citizens are now being subjected to," wrote Tom Ikeda in a statement released on the Densho website on Jan. 28. Ikeda's statement highlights incidents of U.S. exclusion of persons based on race and country of origin such as the Chinese Exclusion Act of 1882 and the repatriation and deportation of Mexican immigrants and citizens to name a couple. His statement is a call to action for those who experienced injustice and discrimination in the past and those who experience it now.
"… individuals arriving from the seven countries on Mr. Trump's ban list are being unlawfully detained in American airports, denied legal counsel, and subjected to religious tests," Ikeda continues, "This is inhumane and unconstitutional."
Since early January, the Asian Pacific American Labor Alliance (APALA) has released a Joint AAPI Statement to Resist the Trump Administration that has spread throughout Asian American and Pacific Islander community organizations. "The joint statement rejects making racism, hate, xenophobia, and sexism normal, and details principles by which organizations will advocate, mobilize, and organize their respective constituencies together in our collective resistance and solidarity efforts," explained the APALA Jan. 24 press release.
The statement promises to, "… work tirelessly toward an inclusive and democratic vision that ensures the safety, self-determination, and well-being of all people, and we will model this in our resistance and solidarity efforts."
In the press release, Interim Executive Director of the National Pacific American Women's Forum Sung Yeon Choimorrow stated, "Now more than ever, we need to reaffirm our solidarity with all who are fighting for justice, whether that's across the street or across the nation." As of Wednesday, it has collected 206 signatures from across the country including local organizations such as the JACL Seattle Chapter, the Minidoka Pilgrimage and Asian Counseling and Referral Service.
"The United States has always served as a sanctuary for those fleeing oppression and provided opportunities to anyone seeking a better life," announced JACL Monday, "JACL continues to support the resettlement of refugees and the rights of immigrants. We are deeply troubled by policies born out of race-based slogans; policies that are mean-spirited and excessive in the treatment of immigrant families; policies that fail to honor the values of our diverse nation."
Fred Korematsu's legacy continues today inspiring generations to take action not only for the Japanese American community, but for and with other minorities facing issues of prejudice and injustice. In a statement condemning the recent executive order restricting immigration, Seattle University Korematsu Center Executive Director Bob Chang said, "We need people to continue expressing their views and standing up against injustice so that our elected officials take heed."
As the 75th anniversary of Executive Order 9066 approaches, many community members will be gathering for Day of Remembrance events with this new executive order in mind. The Korematsu spirit lives on in Tom Ikeda's closing remarks: "… [T]his is the America of our past, and it's up to us to create the America of our future."