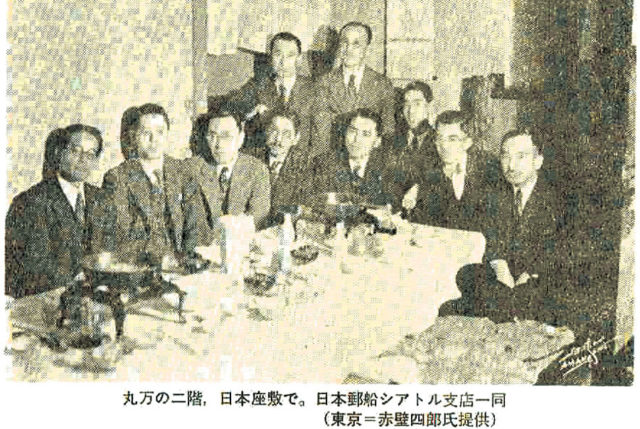 The History of Seattle Nikkei Businesses and the Shunju Club
Japanese Pioneers in 19th century
Japanese people have been running businesses in Seattle since the city's pioneer era. Nikkei immigrants toiled away working in coal mines and railroad construction, only to save up enough money to start a business in pursuit of the American dream. The names of Japanese pioneers who started the "first" Japanese businesses in Seattle were listed in the 1936 edition of the Post's predecessor, North American Times, annual telephone book. The names include Kyuhachi Nishii, who founded the first western food shop in 1884, Sagamiya, who founded the first sushi restaurant in 1888, Yoshizo Taniguchi, who founded the first hotel business in 1890, Masajiro Furuya, who founded the first tailor shop in1890, Iwagoro Mitsuhashi, who founded the first barber shop in 1892, and Dr. Hashizume who founded the first hospital in 1891.
Out of all the Nikkei Pioneers who left their mark on Seattle, no story is more amazing than that of the success of Masajiro Furuya, a man who came to Seattle from Yamanashi in 1890 and opened up a tailoring shop. Then, in 1892, he opened a grocery and general store with money he earned from his tailoring business.  From there, he advanced into foreign trade, establishing the Toyo Trading Company in 1896. In 1907, he established the Japan Business Bank and in 1928, he built a name for himself in the trade industry with the Pacific Shoji Company. Having fallen victim to the worldwide financial crisis in 1931, he went bankrupt, but by that point, had placed his head office in Seattle, and had set up branch offices in Tacoma, Portland, Vancouver BC, Yokohama, Kobe, and Yokosuka, with a sub-branch in Tokyo.
Japanese Company Expatriates in Seattle and the Thursday Club
Entering the 20th century, Nippon Yusen, the company that pioneered the Seattle route, established a branch office there in 1911. Trading companies such as Mitsui & Co and Mitsubishi Corporation, as well as banks including Yokohama Seikin Bank and Sumitomo Bank soon followed and opened their company's Seattle branches in the 1910s.  The so-called "roaring 20's" were when Japanese businesses flourished in Seattle.
Representatives of these Japanese companies forged a friendship with the consul general of the Japanese Emperor's Consulate (moved from Tacoma to Seattle in 1900) and combined their efforts to form the Thursday Club (Mokuyo Kai) in 1922. The Thursday Club set up their office in the Olympic Hotel (now known as the Fairmont Olympic Hotel), holding informal social gatherings every Thursday at Japantown restaurants such as Nikkoro and Maneki, and engaged in various activities on the weekends such as golf, tennis, and fishing. It was said that the agreement was to "create friendships with Americans, not only with Japanese" and that "mahjong is prohibited."  Japan Railways' former president, Reisuke Ishida was a Thursday Club member as the representative for Mitsui & Co. in Seattle. "Seattle Mitsui set up its office on the 7th floor of the American Bank Building on Second Avenue. At their most staffed, they employed a total of 10 Japanese and 60 American men and women," as recollected from an excerpt from the continuation of Hokubei Hyakunen Zakura.
Post WWII and Birth of the Shunju Club
During the 1930s, in a time before the war, many expatriate businessmen and Nikkei pioneers returned home to Japan. Those who remained, were sent to concentration camps when the war broke out and the eviction of Japanese businesses was close to follow. However, when the war ended, Nikkei businesses swiftly came back to life.
Japantown businesses began to reopen, starting with restaurants and grocery stores. In September of 1945, the popular Main Restaurant opened, and Maneki re-opened in April of 1946. In the same year, Uwajimaya moved from its pre-war home in Tacoma to S. Main St., becoming its very first shop in Seattle.
Businesses from Japan began to return after the signing of the Treaty of San Francisco in 1951. That same year, Nippon Yusen's Yokohama—Seattle route that was closed in 1939, was reopened along with consulate (and continued until 1960). The following year in 1952, taking the form of a successor to the Thursday Club, trading company representatives and the consul general started the Tuesday Club, in which they would invite people every Tuesday for a social gathering over lunch. Gradually, the number of members increased, and with the goal of creating something akin to a chamber of commerce, Daiichi Bussan (later Mitsui & Co.) representative, Nakayama founded the Shunju Club in 1960. This is the managerial body of what is now known as the Japan Business Association of Seattle.
There are approximately 17,500 Japanese and 86,900 Nikkei Americans living in Washington State, and well over 200 Japanese businesses. Currently, the Shunju Club is set to have 120 participating companies, or 135 companies with the inclusion of local Japanese owned businesses.       
(Reference: Ito Kazuo "Hokubei Hyakunen Zakura (1972)")
Japan Business Association of Seattle (Shunju Club)
Celebrating its 60th anniversary this year, the Shunju Club is a non-profit organization that supports Seattle Nikkei businesses and the local community. As of 2002, they have been known as the Japan Business Association of Seattle. In 2006, they introduced a system for remote location members as well as individual members, enrolling not only Japanese businesses, but many Seattle Nikkei businesses and owners as well. The current number of members has reached a total of 135.
919 124th Ave. NE., #207, Bellevue, WA 98005
Tel: (425) 679-5120
Website: www.jbaseattle.org