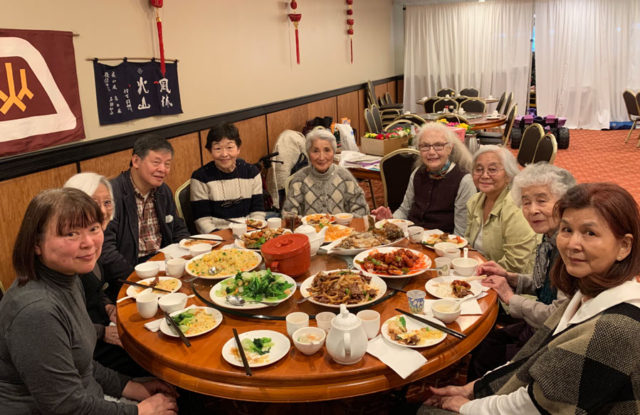 by N.A.P
Shizuoka Kenjinkai By Ryoko Kato, translated by Misa Murohashi
Seattle Shizuoka Kenjin Club's New Year party was held on March 1st at House of Hong Restaurant in Seattle. Founded in 1907, Seattle Shizuoka Kenjin Club today has 116 registered members who are mostly Nisei families.  About 50 people gathered for the celebration this year.
During the program, Atsushi Kiuchi who turned 90 this year received prizes such as kirie art by Aki Sogabe and a homemade cake made by Lillian Hayashi, President of the club. "We are a small club, so this New Year celebration is more of a family and friend gathering," says Hayashi. Next year's New Year celebration for the club is planned to be held on February 28th.
Yamanashi Kyoyukai

 

By Yuriko Ogawa, translated by Misa Murohashi
Yamanashi Kyoyukai's New Year party was held on February 15th at Joyale Seafood Restaurant in Seattle.  Founded around 1920, Yamanashi Kyoyukai today has 14 registered members, who has some connections with Yamanashi prefecture.  The New Year celebration is the club's once-a-year official gathering. Members who attended enjoyed eating tasty Chinese food together.  As the club is a small group, the gathering was very friendly and homey.