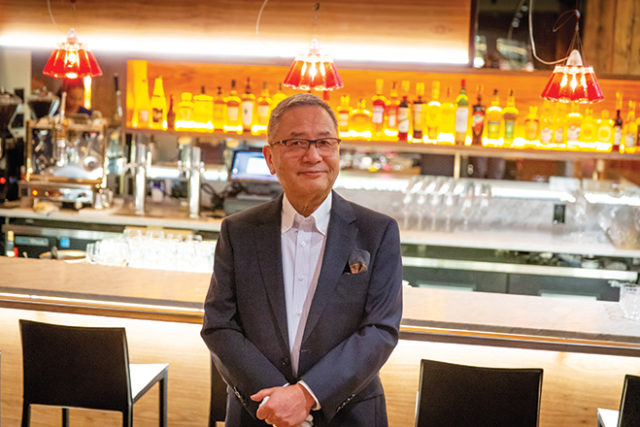 Bisato is a new Italian restaurant opening on February 2nd in Pioneer Square. Chef Scott Carsberg has won a slew of awards, starting with the James Beard Award, which is considered like the Academy Award of the cooking world, and this new restaurant is getting a lot of attention with him in the kitchen. On the management side, Susumu Takahashi is giving Scott support. Takahashi produced Sushi Kashiba in Pike Place Market along with Chef Shiro Kashiba and has been a force in Seattle's Japanese restaurant scene for decades. We talked to him about his latest venture, Bisato.
By Misa Murohashi, translated by Bruce Rutledge
Progressing with trustworthy friends in an organic fashion
"I am indebted to many people in Seattle and have had so many experiences. As a way of expressing my thanks, I wanted to take all that I have learned through those experiences and create something for the next generation," says Takahashi. He's been opening restaurants since the 1980s and has had varied business experiences, and he says the opening of Bisato is "the culmination of my life work," bringing together his experience and his personal relationships.
The joint partners in Bisato are Sam, his wife Katsuko, Chef Carsberg, and General Manager Michael Don Rico. Carsberg, a frequent diner at Sushi Kashiba, reached out to Takahashi about helping him open a new place, which set in motion the current joint partnership. "I respect Takahashi-san's management style," Carsberg says, "so I thought I could work with him." Takahashi says of Carsberg's cuisine, "You know with the first bite that this is Scott's creation. He is a one of a kind. People may try to imitate him, but they can't replicate his skills and experiences." Takahashi hit it off with Rico when he worked at the Belltown steakhouse El Gaucho, and they became closer working together at Sushi Kashiba. "At this age, I can live honestly. I don't need to waste time," Takahashi says. "I spend time with people I trust and do what's in my heart. This effort to open an Italian restaurant in Pioneer Square is the culmination of my life work. Isn't that great?"  Takahashi speaks with an upper-class Kyoto accent, giving deep meaning to each word.
To finance Bisato, Takahashi took a second mortgage on his house to borrow from the bank. This was a big bet for a man who had celebrated his 77th birthday. He consulted his wife Katsuko, and she immediately answered, "Just do it. Life is short. Even if you lose, you will still earn the chance to dream." They had an understanding. Katsuko, like Susumu, has spent a large portion of her life in Seattle.
Takahashi made sure to reach beyond his co-partners to gather the people he trusts when opening Bisato. For the interior, he turned to popular architect Hiroshi Matsubara, who has worked on many Japanese restaurants in Seattle including Sushi Kashiba Momiji and Sushi Kappo Tamura. Construction was done by Jason Minami, a 4th generation Japanese
American who runs Method Construction. The tables, chairs, and other furniture were custom-ordered by Matsubara and Takahashi's friend Craig Yamamoto. Takahashi and Scott wanted to bring a Japanese feel into this Italian restaurant, and so he reached out to these friends to make it happen.
"I feel there was a lot of significance in choosing to open the restaurant in the old part of Seattle in Pioneer Square. This is the land where immigrants of all backgrounds – Chinese, Italian, Scandinavian, and Japanese – began to build the foundations of Seattle," Takahashi says. The space where Bisato moved into used to belong to the Nakamuras, a Japanese Issei immigrant family. It used to be a Single Room Occupancy (SRO) hotel, which housed immigrant laborers for short periods. Today it is owned by the famous architect Ilze Jones, who designed the Woodland Park Zoo. She has preserved and maintained the building as an historic property in Pioneer Square. "I want Bisato to contribute to the local community in Pioneer Square for a long time," Takahashi says. "There are all sorts of styles of doing businesses, but in my case, I want to work with friends who have a shared vision and connect with the local community to establish organic growth in the long term."
The culinary world makes a borderless world a reality
Walk into Bisato and the thing that is likely to catch your eye is the Japanese and Italian-style art on the wall. Shoji from Takahashi's home in Kyoto is incorporated, and on a sliding door you'll find a beautiful Venetian glass vase crafted by Carsberg's friend and glass artist Lino Tagliapietra "Bisato is an Italian restaurant, but the more important theme is quality. A beautiful thing is beautiful. Delicious things are delicious. There is no nationality in quality. Both the sliding door and the Venetian glass was created with care by a craftsperson. This art is a symbol of quality," Takahashi says.
Carsberg, who was raised in West Seattle, began working in restaurants when he was 14. He worked in restaurants internationally in New York, Atlanta, Munich Germany, and Merano Italy. While he was working at Villa Mozart in Merano, the restaurant was awarded one Michelin star and had 18 points out of 20 in Gault Millau, a French restaurant guide. As he travels the world to learn about new food, he has accumulated deep knowledge about Japanese cuisine. "For me, simple is the best, and I only want the best ingredients for simple cooking. I use simple techniques to draw out the taste of the ingredients," Carsberg says. "It may be because of my upbringing in Seattle, which is blessed with quality ingredients. When I went to Japan and tried Japanese cuisine, I learned that the concept behind Japanese cuisine was similar to my own thinking. I understood that I was doing things right." Bisato's menu includes ingredients like matsutake mushrooms and ikura that are used in both Italian and Japanese cuisine. The materials he chooses are simple and prepared with care. Japanese customers will find a hint of "wa (The Spirit of Japanese Harmony)" in the preparation. Takahashi and Carsberg are aiming to transcend Italian and Japanese and deliver "food without borders' that are bonded by their quality.
Another concept behind Bisato is "service without walls." In Bisato, there is no partition between the kitchen and dining area, which gives off a neverseen-before look. Carsberg insists on the unique open kitchen with no walls. This is the same style of his former Bisato restaurant that operated in Belltown until 2012. It's done in the image of a family having dinner, with no division between the chef and the diners. "The chef and the diners come together," Carsberg explains. "It's like a sushi bar where communication comes through serving the food. The chef can introduce elements of the meal as he is serving explaining, 'This is the prosciutto we have today. These are our seasonal ingredients. "That's the kind of dining space I wanted to make."
Grateful to Seattle and the US
The first restaurant produced by Takahashi was Kamon of Kobe in Bellevue, which his brother-in-law's company invested in. It opened in 1982. Takahashi worked for a trading company out of college. In 1969, he first came to Seattle to help a restaurant owner in Kyoto open a Japanese antique shop. "I still remember the beauty of the Olympic National Forest from the airplane window," Takahashi says. He married Katsuko in Seattle during his stay and then went back to Japan to enter his brother-in-law's company. In 1978, he
took charge of their entry into the Seattle market. Kamon of Kobe tapped into the American boom in teppanyaki at the time. From the 1980s, the growth of Bellevue and the success of the Japanese community made it a very popular restaurant.
"Since then, I've hired a lot of Americans, not just Japanese, at my Japanese restaurants," Takahashi says about his original management style. "Even if they don't know about Japanese cuisine, if they are professional servers who can put into practice the best American-style customer service, that's the best. They can always learn about Japanese cuisine afterwards." That may be why wealthy Americans were at the core of the early Sushi Kashiba popularity, which has spread far and wide. "This time, our challenge is Italian cuisine, but the basics of providing the best service does not change."
In the 1990s, as his brother-in-law cut back on overseas business, Kamon of Kobe closed. From 1994 to 2008, Takahashi worked as a financial planner, selling insurance and other American financial products to Japan's wealthy class. He also worked as a consultant for Chandler's Crabhouse when it opened Chandler's Crabhouse Yokohama in the Yokohama Minato Mirai area and Tokyo Bay Chandler's American Grill. In 2008, he retired from his financial planning work and began volunteer work serving food and dish washing at the Bellevue Senior Center. During that time, Shiro Kashiba called him to see if he would be a partner in the chef's new venture, Sushi Kashiba. "When I got involved with the opening of Sushi Kashiba, my life entered a new stage," Takahashi says.
Takahashi has been aggressively challenging himself with a variety of business projects in Seattle. "Curiosity has been the driving force that has brought me this far. When I turn this corner, what will I see? As I kept being greeted by scenes I'd never laid eyes on before, I've arrived where I am." He says he has endless gratitude to Seattle and the US. "The generosity, individuality, sense of freedom, and volunteer spirit of America has allowed me to find out who I really am." With Bisato, Takahashi says he sees himself backing out in five years or so, once things settle down. And what will be next for him? "Maybe having a quiet old age. Or maybe I will find a new thing. Until we take that final turn, we don't know what life has in store for us. If I can live my life fully, one life is enough."
Susumu "Sam" Takahashi was born in Nara in 1941. Graduated from Kyoto University of Foreign Studies in 1964, then worked for a trading company before moving to Seattle in 1979 to open the teppanyaki and sushi restaurant Kamon of Kobe. In 2015, he partnered with Chef Shiro Kashiba and his team to open the very popular Sushi Kashiba in Pike Place Market. This January, he opened Bisato in Pioneer Square with Scott Carsberg and team.
Bisato | 84 Yesler Way, Seattle ☎ (206) 624-1111 | bisato.com