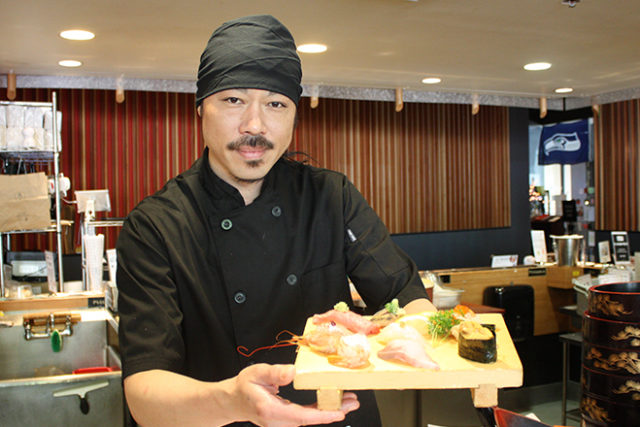 Long ago, Seattle's Japanese restaurants used to be mostly in the International District. Those days are long gone. Today's restaurateurs are bringing sushi and ramen and Japanese comfort food to neighborhoods like Wallingford, Queen Anne and Capitol Hill as well as the ID. Let's meet some of the people behind this Japanese cuisine boom.
Shinichiro Takahashi – Ten Sushi Owner Chef
The man who greets you with a smile when you take a seat at the counter of Ten Sushi is Shinichiro Takahashi. "I work here every day," said Takahashi. "I enjoy connecting with my customers and right now, I'm having so much fun that I don't feel like it's really work." Rightly so. You can't miss him when you visit his restaurant in Queen Anne. The man born and raised in Aizu Wakamatsu, Fukushima Prefecture, jumped into the sushi business right after finishing high school. Since then, he's been standing at sushi counters for 25 years. It all began with part-time work at Genki Sushi, which at the time in the late 1990s was starting its rapid global expansion. He soon became a full-time employee, then a branch manager, and then an area manager. Several years later, he was tasked with managing restaurants in Hong Kong and Taiwan. He was sent to Seattle to open a branch here in 2008, and five years later, left the organization to launch Ten Sushi. Takahashi says he has always fostered good relations with people. He says his friendships were what saved him during difficult times in his start-up phase.
"Sushi is what you eat at special occasions," Takahashi said. "I believe my mission is to deliver quality time to my customers through sushi and to become the invisible thread that connects people. From the time that a customer walks into my store, my thoughts are, 'what are they looking for, what have they eaten, what are their reactions, and are they leaving this place satisfied?'" The "Tuna Filleting Show" at the Queen Anne location is all part of Takahashi's mission of delivering awe along with delicious fare. Ten Sushi is known for its large and fresh pieces of fish. His secret? "Always striving to shrink the time between when a fish is procured and served to a customer," Takahashi replied immediately. "That's not easy, but I have a wealth of knowledge from my years of experience running a sushi restaurant."
After turning 40, Takahashi started to become aware of his own connection to the Nikkei community in Seattle. "As I approached the halfway point of my career, I began to wonder what I can do to give back to my community. Watching the former Uwajimaya Chairman Tomio Moriguchi and other community leaders who visit my restaurant got me thinking if there was any way I can contribute to and show my gratitude toward that community." Early this year, Takahashi opened a second Ten Sushi branch in the International District. "I had learned that this area was once lined with stores run by Japanese owners, and just as I was considering a second shop in the I.D., the opportunity arose," said Takahashi. "The Queen Anne branch is close to the Seattle Center and attracts a big crowd, but the one in the I.D. has an expanded Izakaya menu, and I'd like to build that restaurant into a community space where regulars can drop by and connect with each other," said Takahashi. A restaurateur from Fukushima is about to carve out a little piece of history into Japantown.
Ten Sushi Seattle 500 Mercer St. C-2 2B, Seattle
(206) 453-3881
Ten Sushi #35 1207 S Jackson St b106, Seattle
(206) 568-0404
Ten Sushi Website