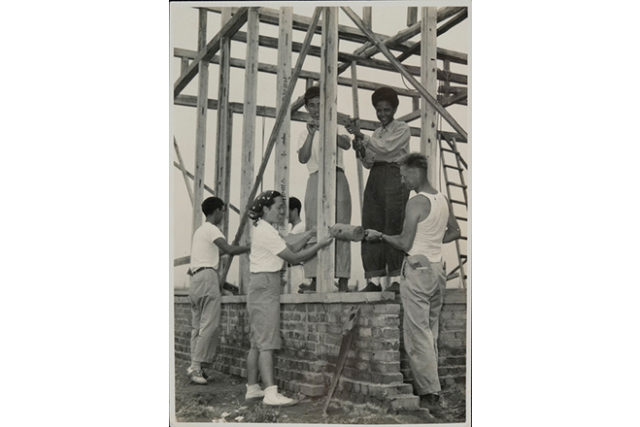 By N.A.P., Retrived from NHK WORLD-JAPAN press release
The Seattle Quaker peace activist Floyd Schmoe (1895 -2001) is featured in the NHK WORLDJAPAN documentary, Houses for Peace: Exploring the Legacy of Floyd Schmoe. The program will be screened on Sunday, January 13, 2019, at 2p.m. at the University of Washington Kane Hall 120 and is sponsored by NHK World in cooperation with the University of Washington Department of American Ethnic Studies, University of Washington Libraries Special Collection, Consulate-General of Japan in Seattle, Nisei Veterans Committee/NVC Foundation, Holocaust Center for Humanity, Seattle JACL, Japan-America Society of the State of Washington, and Seattle Hiroshima Club.
The documentary film centers on how Floyd Schmoe organized a diverse interracial/interfaith team of American and Japanese volunteers on a mission of peace to build houses for families who survived the World War II atomic bombing of Hiroshima and Nagasaki. An impactful legacy of goodwill and friendships emerged from diverse people coming together to work cooperatively on this peace building project.
Immediately following the screening, Jean Walkinshaw, one of the volunteers who built houses in Hiroshima and Nagasaki, and the program's directors, Ms.Jun Yotsumoto and Ms.Kumiko Ogoshi Takai of NHK WORLD-JAPAN will discuss the documentary and take questions from the audience.
Schmoe, who created the Peace Park in Seattle, was a Quaker and acted for peace throughout his life. During World War I, he refused to pick up arms and opted to become a conscientious objector, helping injured soldiers and civilians in France. After the war, he worked as Mount Rainier National Park's first full-time naturalist and eventually became an instructor of Forest Biology at the University of Washington in Seattle. After the outbreak of World War II, he set up the American Friends Service Committee office in Seattle and helped Japanese Americans who were forcibly rounded up from their homes and placed in incarceration camps by the U.S. government without due process during the war.
After hearing about the atomic bombing of Hiroshima and Nagasaki, Schmoe made up his mind to build houses for those who lost theirs in the atomic blast. In 1949, Schmoe finally got his wish—and traveled to Hiroshima, still under the control of the Allied occupation forces. Over the next four years, "Houses for Hiroshima" project team built 21 homes in Hiroshima and a number in Nagasaki with the money donated by people from all walks of life. The project's purpose was clearly stated in a sign posted at their building site: "1. To build understanding—2. By building houses—3. That there may be peace."
Researching historical documents housed at the University of Washington Special Collections and interviewing people who knew and worked with him, Houses for Peace: Exploring the Legacy of Floyd Schmoe traces the 105-year-old life of a grassroots peace-builder.
Admission is free and open to the public. The doors open at 1:30 pm and light refreshments will be served after the program in the lobby of Kane Hall. For further information email aes@uw.edu.