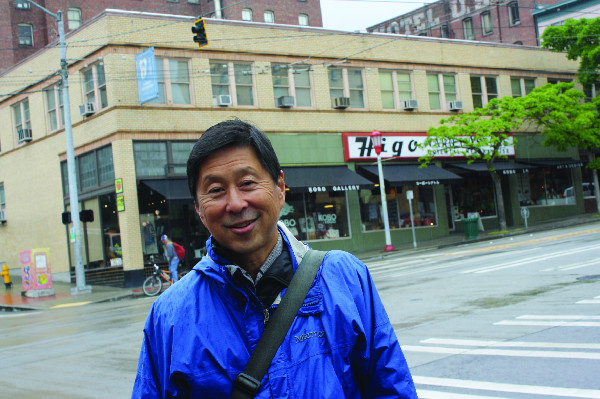 In fast-changing Seattle, landlord Paul Murakami is an anomaly. The owner of the Jackson Building eschews easy profit in favor of community building. "I consider myself a preservationist and a steward who is keeping things the way they were," he told North American Post.
His building is at the heart of Japantown and home to core businesses such as Kobo at Higo, Momo, Kaname and Pioneer Barber. We chatted with Paul about his aunts, who ran the old Higo Variety five and dime, the current Japantown and his plans for the Jackson Building. Excerpts from the interview follow.
Interview conducted by Bruce Rutledge
Memories of Seattle
I always remember my aunts being so well-coiffed. They would come to visit us – we used to live on 19th and Republican in Capitol Hill — and it felt like we were little ragamuffins. We were seven, eight years old, and they were coming over in their fur coats. We were thinking, "Royalty is here."
They were always so generous. They loved kids. They loved talking to us more than my parents. They were very curious about us, wanted to know how we were doing, how was school. They were very gentle, very gentle. We just knew they were important. We didn't really understand the nature of their business at the time.
We used to go down to the store from time to time. My earliest recollection of my aunts in the store was the waft of mothballs. It was very distinct. It was a comfortable feeling because I knew it was a very safe and friendly environment.
The youngest aunt, Masa, liked to engage in conversation a lot. In fact, she was often chastised by my uncle and older aunt that she talked too much and didn't do business. She was really the connection between the family and the community. The community came in to talk to Masa a lot. She was always willing to talk.
Getting involved
Shigeko Uno started helping out about 15 years ago, just when my Aunt Masa's health started to get a little weak. She would start forgetting things. So I came in on the weekend, helped her with the books, paid the bills – she would forget to pay the bills – and they were having brownouts because the electric hadn't been upgraded.
My father was helping out. He probably was the oldest stock boy – he was in his 80s. I think he mostly went down for the conversation and the food.
From there, it just kind of progressed. I told my aunt, "Please let me take care of things."
I said, "Let's get the infrastructure fixed. Masa, we gotta do the roof. Roof, electrical and plumbing. Those are the three basics. After that, everything is just cosmetic. She said, go for it. So we did. We replaced the roof. We replaced the plumbing and the boiler unit. We got rid of the water tank and did infrastructure work.
Our first tenant (on the second floor) was Lei Ann Shiramizu (owner of Momo). She was a copywriter. She was young, energetic and fascinated with Japantown, the history and the building. She was the one who basically initiated the effort to clean up Higo when we finally closed the store.
Taking over
Masa's health was failing, my parents' health was failing, so I said, let's cut it off here; I'll retire (from King County Public Health) and start this full-time.
The first thing I wanted to do before I met Binko and John (Bisbee, owners of Kobo at Higo) was set off on a trip to San Francisco because I really love Ichibankan. We were looking at a couple of possibilities to try to attract them up here. Terry Takeuchi, a friend of mine, called me when we were down there and asked if I had heard of Kobo. I said, "Yeah, I know they have a little store in Capitol Hill." "Well, Binko and John are very interested in that space, and they're interested in preserving the Higo history."
That was really the beginning of finding a way to preserve things and still have a retail shop and a business that is going to thrive keeping Japantown Japantown. They were what we considered the anchor. It was a community effort because John and Binko recruited all their friends, including myself and my brother, to clean, to paint, to move … it was a project.
John's ability to visualize things and organize was beyond compare. He had this vision. We painted certain cabinets, we painted the walls, we installed lighting. It took months. It was very, very cool. We would work late, eat dinner there. That's where I really got to know John and Binko.
New neighbors move in
I promised Lei Ann that I would find her a retail shop. That was her vision when she was doing copywriting. It just so happened that the guys running an optical shop there were talking about retiring, and I said, OK, let's do it. We got in there and demo'ed it, colored the concrete. It was incredible. A lot of people helped on that. It was a different group. Lei Ann has so many friends! (laughs) Tom (Kleifgen, Momo co-owner and husband to Lei Ann) knew graphic artist folks and guys who designed the shelving. It was a labor of love. We were really excited for Japantown. We didn't want it to die. I know my aunts and uncles would be happy that we are trying to keep it the way it was.
As for Kaname, at first that space was Takohachi. They retired. I really wanted a Japanese restaurant. Todd Kuniyuki applied. Todd had a brother- in-law in Japan who designed izakaya. I saw it on paper, and it looked really cool. Todd and his stepfather really did most of the work in redoing the space. They put a lot of not only money but blood and sweat in there. They did a great job. The bar is a killer. He's been there for 10-11 years now. He is such a generous guy, almost generous to a fault.
I hated to see Osami (the barber) go. He was there for a long time. When he left, I asked if he would leave a few momentos. He left everything. All their smocks, all their clippers. The Osami sign is dilapidated and it can't be restored so we are going to take it down and Brian (Jaeger) is going to put it inside the (Pioneer Barber) store. We're trying to preserve it.
Brian has the same passion, being new to the district and learning about the incarceration. He was trying to put a barber pole on the outside, so he had to go in front of the Review Board to get permission to install the pole. I said, "Brian, there is precedent there. I could find a photo of a barbershop pole there from the 1940s." Sure enough, I found it, took it there and got it approved.
Also, we wanted to wrap all the signal boxes around here, because they
get tagged so much. And since we put up those wraps (by artist Enfu), it's very seldom that they get tagged.
We're working on a Nihonmachi Night on August 26. That's another way to keep the memory alive.
Wartime changes
Japantown used to be large. My father was born on 5th and Main. My mother was born – she always calls it Skid Road, at the bottom of Yesler Hill. They managed a hotel down there, and my grandfather had a cleaning business, and he went from hotel to hotel in exchange for rent. We're really tied to this area. Then my parents went to Minidoka and my dad volunteered (for the military; he served in the 442nd regiment).
My dad has an interesting history. He was in the Army Reserve. He worked on the Sand Point Naval Base putting armaments on planes over there. When war broke out he was discharged at the convenience of the government. He was so distraught. He loved that job. So what does he do? As soon as he's put in incarceration, he volunteered out. My grandmother sent my aunt to the recruiting office to try to nullify it, but he was over 18.
I visited Europe, and I was really impressed with France. The 442nd liberated Bruyeres. A man on the street told me to wait, and he came back with photos of him and his sister sitting on an American tank. They were just 7 or 8 years old. They were so grateful to the Japanese. I wondered why they didn't do it as much in Italy, but in France, they fought in the cities. In Italy, they fought in the hills. You feel like a hero just walking down the street. I wish my dad could've come.
Preserving history
My kids, they think what their dad is doing is great. I tell them that we're trying to figure out the future of the building. My brother and I – we're trying to figure out how we can stipulate that you can't sell this. You guys gotta take care of it. You can take some residuals, but you can't gouge your tenants. It's yours. Take care of it. I don't want to see it be redeveloped. I just want to keep it as is.
About Paul Murakami/Jackson Building Owner
Owner of the Jackson Building. The third-generation Japanese American was born on Capitol Hill. His parents and grandparents managed a hotel and a store in Japantown. He inherited the Jackson Building from his father's cousin and aunt, and proceeded to revitalize Japantown by finding Japan-related businesses as tenants.