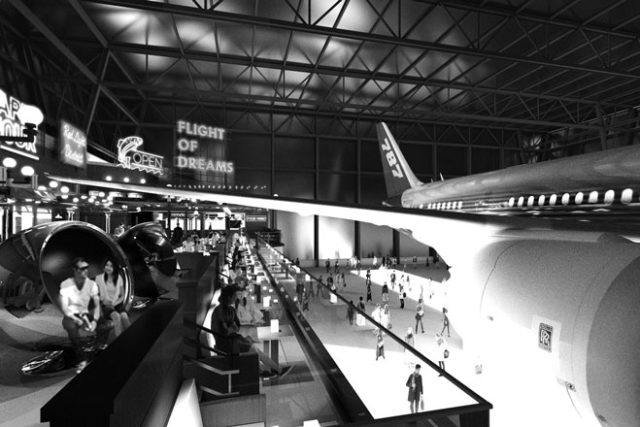 By The North American Post Staff

Seattle will be the main theme of the new commercial area at Chubu Centrair International Airport (Centrair), featuring a long-time business tie with the Pacific Northwest region.
Central Japan International Airport Co., Ltd. (CJIAC) announced the overview of the commercial area of "Flight of Dreams," commercial complex with the very first Boeing 787 aircraft display to be opened in the summer of 2018.
CJIAC collaborated with the City of Seattle as a strong partner to develop a Seattle-like atmosphere in the commercial area and also to attract Seattle stores and restaurants to the facility. According to the press release, the section will launch Starbucks Coffee and also The Pike Brewing Restaurant&Bar as the first restaurant in Japan by The Pike Brewing Company. The first official Boeing Store outside the United States is also planned to open.
The Central Japan region has been a core contributor for the Boeing aircraft project for decades. For the Boeing 787 project, 35% of the aircraft parts are manufactured in the region, and the large components including the wings, are transported to Boeing's final assembly lines in the United States by the special freighter called the "Dreamlifter" from Centrair.
The very first Boeing 787 aircraft "ZA001," was donated to Centrair in June 2015 from the Boeing Company and will be a feature display at the Flight of Dreams.
Japan and Washington State agreed on a memorandum last year to strengthen their ties and efforts in business, communication and environment.
Mitsubishi Aircraft Corporation based in the region has also been holding its MRJ test flight projects at the Grant County International Airport in Moses Lake.
"The Dreamlifter, Boeing's 787 component freighter, flies out of Chubu Centrair International Airport and provides a symbolic bridge linking Japan with Washington State and Seattle," Consul General Masahiro Omura stated. "I am delighted that the commercial area at Centrair is being established with the full support from the City of Seattle, and expect that this will make Seattle an even a more familiar place to Japan."