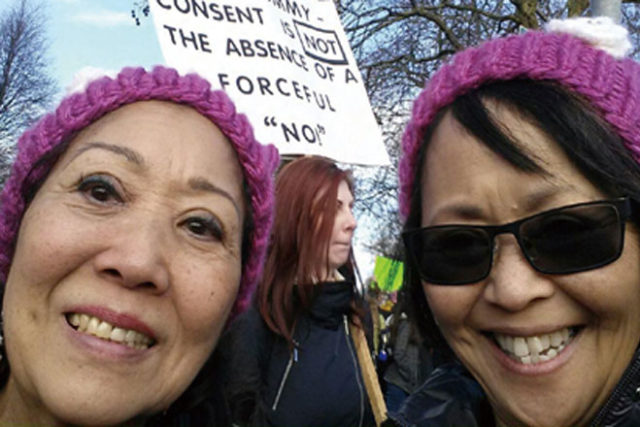 By David Yamaguchi
The North American Post
In Edo-period Japan, the common people must have been especially sad at times. For in addition to heavy taxes, used to support the ruling samurai at the top of society, now and then an overly burdensome shogun would come along whose eccentricities would further weigh down the populace.
One such military leader was Tokugawa Tsunayoshi. He is remembered as "the dog shogun," for he was inordinately fond of "inu's," of which there were many in semi-feudal Japan. He sponsored—with the peoples' money—the kenneling and feeding of 50,000 "wan-chans" on the outskirts of Edo (today's Tokyo). This would not be so bad if there were not also many hungry people in the land. For example, his rice stipends to Tohoku people made homeless by a tsunami in 1700 were paltry. Similarly, it was economic disparities between wealthy and poor domains that led, in part, to a dispute in Edo castle (a sword was drawn; a daimyo was wounded; follow-up seppuku was ordered). This, in turn set in motion the revenge killing of the insulting castle lord by 47 displaced samurai. This, of course, is the story made famous by the kabuki drama, "Chushingura." My point is that in unsettling times—then as now—people need to think about uplifting things.
My own list of "Uplifting Things" for late January includes two Jan. 21 events. The first was hearing and reading about the Women's March, which happened nationally, internationally, and locally. That so many people are dissatisfied with our current "shogun"—to the extent that they are willing to organize and peacefully protest—shows that our country isn't yet going "to the dogs."
The marchers included Molly Angeles and Cari Murotani. Molly is the haircutter/golfer who hosted the   Japanese exchange students last spring (Mar. 31 article). Cari is the former baby whose birth is described in Min Masuda's "Letters From the 442nd" (UW Press, 2008). Cari's mother, Tama Murotani, was the twin sister of Mr. Masuda's wife, Hana.
The second event was my attending the inspiring celebration-of-life service for Yukiko Sato, put together by son Denny and the good people at Japanese Presbyterian Church.
Mrs. Sato, whom I did not know, lived an exemplary life. A widowed working mom, she spent her career as a civil servant at the Social Security Administration. (At the service, I learned the broader context:  there were but two career paths forward for Nisei: to work for the government or within the Japanese community.) Throughout, Mrs. Sato also remained active as a church organist. Further, not having had the opportunity to attend college earlier in her life, after retiring she began taking one class a time at the University of Washington. She did this for 19 years until she crossed the UW stage to receive her degree, summa cum laude, in American Ethnic Studies at age 83.
According to service speaker and retired UW professor Gail Nomura, a paper Mrs. Sato typed on her manual typewriter, about UW Nikkei graduate students whose studies were interrupted by World War II, led directly to the landmark "Long Journey Home" celebration awarding honorary degrees to all Nikkei students of that period, on the UW campus in 2008. That paper demonstrated that the former students could be found. Mrs. Sato would later get on the phone to help find the others.   
Molly, Cari, Mrs. Sato, and Denny: Thumbs up!