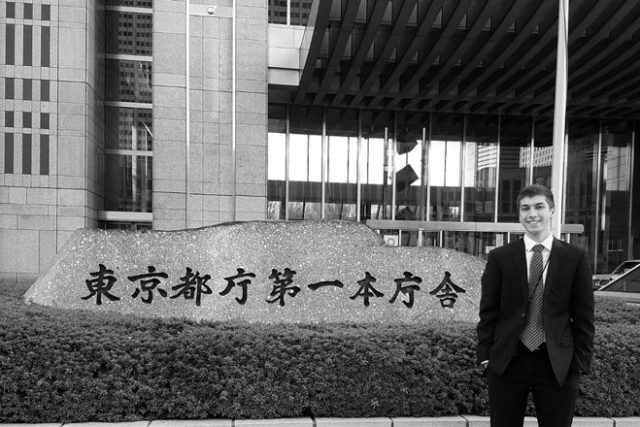 From Consulate-General of Japan in Seattle
Local Wesley Warriner of Redmond High School, who now studies at the University of Washington, was chosen as a participant for the 2017 Kakehashi Project Speech and Skit Category.
The Kakehashi Project is a fully-funded, large-scale youth exchange program between Japan and the United States. Promoted by the Ministry of Foreign Affairs of Japan, Kakehashi aims to heighten potential interest in Japan and increase the number of overseas visitors to the country, as well as enhance international understanding of the "Japan brand," or the nation's strengths and attractiveness. The project is also anticipated to revitalize and boost the Japanese economy.
The objective of this program is to promote deeper mutual understanding between the people of Japan and the United States, enable future leaders of Japan-U.S. exchanges to form networks and help young people develop wider perspectives to encourage active roles at the global level in the future.
From Jan. 9 to 16, the Kakehashi Project sent ten participants who had previously shown excellence in Japanese skit and speech contests. Participants spent nine days in Tokyo and Chiba prefecture and had the opportunity to visit schools, stay with host families and learn about the latest technology. A highlight of the trip was meeting with the Deputy Chief Cabinet Secretary and the mayor of Kyonan-machi.
Warriner stated that this trip increased his "desire to learn more about Japanese economic dynamics as well as how people living there perceive the current circumstances" and that his dream is "to live there long-term, so as to actually immerse myself in the society and culture and more deeply pursue my understanding of Japan's unique intricacies."