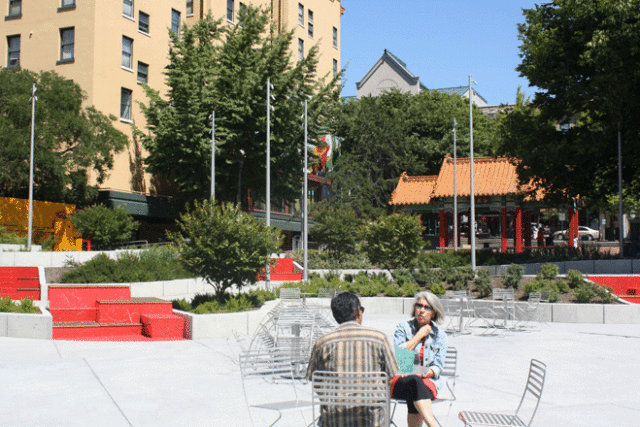 by Misa Murohashi
Seattle Parks and Recreation (SPR) announced that the Hing Hay Park Expansion opened on June 29, at the corner of 6th Ave S and S King St in Seattle's International District. The park has doubled in size and serves as an important community gathering place for the neighborhood.
The design of the park is the result of a series of community outreach meetings, input from local organizations and Friends of Hing Hay Park.  The team of MIG | SvR, a local design firm, plus Turenscape, a Beijing-based firm, created the park design that reflects the many cultures of the neighborhood and seamlessly embraces the old with the new. SPR purchased the International District Station Post Office site with funding from the Pro-Parks Levy to expand the original park. The 2008 Parks and Green Spaces Levy provided the development funding and brought the community vision alive.
The design includes an iconic artistic gateway structure on the southwest corner. This structure will be installed in late summer. The gateway is being fabricated off site and the artist will install it in July through August.  During installation, this section of the park will need to be fenced for public safety.
During this summer, neighborhood events including Dragon Festival 2017 (July 15th & 16th ) and Nihonmachi Nite 2017 (August 26th) will be held at the park.