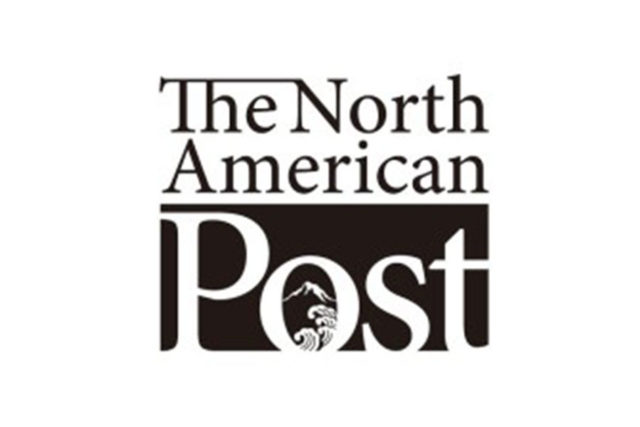 By Tatsuro Hoshina
The North American Post
From left to right on above; a Japanese sign in Nihonmachi (photo by Tatsuro Hoshina/ The North American Post) and a historic Nihonmachi photo in 1919 (Courtesy of MOHAI, PEMCO Webster & Stevens Collection): on bottom; Nihonmachi supporters gather for a BBQ party on Sunday at Chiyo's Garden (photo by Yuki Yamamoto) and a soon-to-come street car featuring with a Japantown (photo by Tatsuro Hoshina/ The North American Post).
There had, for decades, been many Japanese signs and Japanese was spoken by local merchant and visitors who came and went on the street. In the late afternoon, workers might come back to share the Japanese public bath, sento, to refresh themselves and enjoy swapping stories about their day.
These nostalgic scenes are from Nihonmachi, located in a part of the current International District. From the late 19th century, the population of Japanese immigrants sharply increased while they resided in the area and came to build Japantown. Nisei (second generation Japanese Americans) who were born and grew up in Nihonmachi still have strong and lasting memories of the time, including Tosh and Toshi Okamoto.
"We often hung out in Jackson Café," Tosh recalled. Toshi added, "Remember, the Niku-dofu set meal at Main Shokudo restaurant was really good." Tosh agreed with a big smile. The couple's conversation described the good old days of Nihonmachi, which was a lively and comfortable place for Japanese Americans.
It is hard to imagine now, but the map indicates that Japanese businesses once spread out from Elliot Bay to Seventh Avenue or from Yesler Way to Lane Street. "From eating food to buying medicine, we could use Japanese and find Japanese style services anywhere in Nihonmachi" Toshi said.
While many Issei faced a language barrier elsewhere, the area was a safe place for them.
Sudden Disappearance
As Japantown grew, Japanese immigrants faced other difficulties in American societies, especially with the worsening of U.S.-Japan relation. The attack on Pearl Harbor, beginning the war between the two countries, changed everything in Nihonmachi and other West Coast cities.
Tosh Okamoto still remembers the countless anti-aircraft balloons that flew over Puget Sound to prevent Japanese bombers. In 1942, the local Nikkei community disappeared completely due to incarceration.
Countless Japanese signs were replaced with English signs by new tenants and businesses, except for the few places owned by Japanese Americans.
Through the loss and hardship of the old Nihonmachi, the Nikkei, however, encouraged themselves with words like "Gaman" and "Shikata ga nai," recalled Tosh Okamoto.
"We Nisei who were born in the United States didn't learn about this way of thinking from American society," he said. "But Issei everyday taught us this Japanese way of perseverance. With this education, we could overcome adversity."
But the community had begun to spread out.
At the time, Issei grew old and didn't speak English well. Going to local hospitals was difficult for them because of the language barrier. Tosh Okamoto and other volunteers stood up, saying "Let's help each other and make a comfortable environment for Issei, like in Nihonmachi."
Issei concerns, current Nikkei Concerns, was established in 1975, to draw the community together again.
Today, local community supporters and organizations have been working on Nihonmachi retroactive activities including bringing back Japanese street signs.
But recovery is not an easy task.
"Our community has increased in population," Okamoto said, "but Sansei (third generations) and Yonsei (fourth generations) are already blended into American society. So we don't need that kind of community any longer."
More Activities around Nihonmachi
On South Jackson Street, a soon-to-come street car features a Japantown design, but it may be hard to imagine the historic Nihonmachi from decades ago.
Over 100 years ago, many jumped onto immigrant ships with just the clothes they wore, and lived strongly enough to build "Japan" in the United Sates.
After facing hardships, the community achieved the furthering of minority rights. Nihonmachi is disappearing into history, but, the stories should not be forgotten.
Community supporters met on Sunday at the "Nihonmachi Autumn Celebration," a community BBQ event, at Chiyo's Garden in the Jackson building.
Over 40 participants enjoyed "Zin-Gis-Khan" style BBQ, a soul food of the Hokkaido area. The event included an educational tour at KOBO at Higo and a clean-up around Jackson building.
The event was held by Japanese international students, Japantown community representatives and SCIDpda.
"It will be great if we can keep annual community event like this going," said Binko Chong Bisbee of KOBO at Higo.
Japanese and Japanese Americans, who have the same ancestors, might only have a few chances to learn about each other and each other's complicated histories. But attendees of the Sunday event believe that these kinds of gatherings will be a great opportunity to recognize history and build a better relationship.
"We Japanese American need to learn about Japanese, Japanese need to learn about Japanese Americans," said Paul Murakami, a Jackson Building warden.
In addition to the autumn celebrtion on Sunday, local musician Paul Kikuchi and his friends will perform the "Songs of Nihonmachi" at the Panama Hotel Tea & Cafe today. More information can be found on the calendar page.
Fumika Iwasaki contributed to the report.