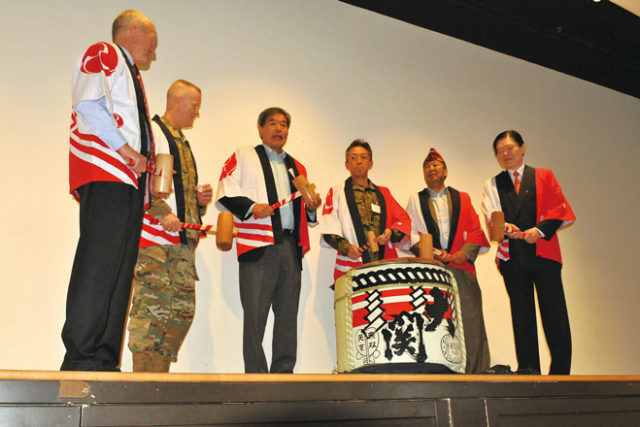 By Shihou Sasaki
The North American Post
The Nisei Veterans Committee and Japan-America Society of the State of Washington collaborated to hold an annual luncheon last Saturday at NVC Memorial Hall to further the friendship between the U.S. and Japanese militaries.
Representatives from the U.S. Army and Japan's Ground Self-Defense Force, which together are now participating in Operation Rising Thunder at the Yakima Training Center this month, were invited by local community members. Other attendees included Consul General Masahiro Omura, State Senator Bob Hasegawa and other community representatives
This community reception has been held annually since 2013 to welcome military officers and share the Japanese American experience. Dozens of military representatives also had a chance to tour the historic NVC Memorial Hall to see the Japanese American memorial wall, historical displays in the museum and wall panels of Nikkei soldiers who died in service.
Several Nisei veterans who served in the military were also recognized and shared their experiences with current military officers. Sam Mitsui, a former Military Intelligence Service veteran, shared his speech "Good Things Grow from Horse Manure" through a video presentation.
"We clearly understand that most Japanese Americans went through a lot of hardship during World War II," said Lt. General Takashi Motomatsu, Commanding General 8th Division, Western Army of JGSDF. "I would like to express my appreciation" for their contributions to society and the reconstruction of the Nikkei community.
Every year, Operation Rising Thunder is joined by several hundred soldiers from the armed forces of both countries. The three week long session includes joint training, participation in local events and friendship activities. This year, 310 soldiers from Japan joined the operation.
Major General Thomas S. James Jr., commanding general of U.S. Army 7th Infantry Division said that the training helps to prepare the soldiers by creating close friendships.
"Today's luncheon brings together soldiers from the past and present," James Jr. said. "The U.S. and Japan bring an opportunity to build a professional relationship, a strong bond and strengthen our partnership with our Japanese allies."
The U.S.-Japan military alliance has strengthened in recent years with the expansion of programs such as the Japan U.S. Military Program (JUMP), a supportive program for service members, families and government personnel who have served in Japan, which was administered by Sasakawa Peace Foundation, USA.
"The history of Japan and the United States is complex, with the past full of violence and darkness and the present  peace, prosperity, cooperation and alliance," said Admiral Dennis Blair, chairman and chief executive officer of Sasakawa Peace Foundation, USA.
He added that the continued relationship will lead to future friendships among the next generation.
Tay Yoshitani, chair of the Japan-America Society of the State of Washington, shared his background brieftly as an example of what the two countries have been through.
Yoshitani, who was born in Japan to Nisei parents during the Occupation years after World War II, said that his first encounter with a GI was to receive candy on his way home in his youth. Moving to the United States 10 or 12 years later, he was appointed to West Point, the U.S. military academy, and served in the Vietnam War as a second lieutenant.
"Not only am I an Issei, I am a Sansei and am also a veteran of the U.S. army," he said. "I think I am a very much of a symbol of how much this relationship [between the two countries] has gone through. I am greatly proud of that."