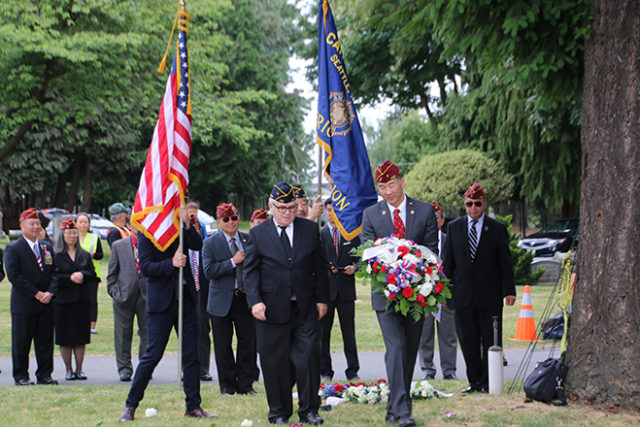 The Nisei Veterans Committee and NVC foundation held its 73rd annual Memorial Day Service at Lake View Cemetery in Capitol Hill to honor all who have died in service of their country. Community members and representatives including Sen. Bob Hasegawa, JCCCW president Kurt Tokita and Keiro Northwest president Frank Fukui participated in the event.
This year, Major General Tracy Garrett, USMC (Ret.) was invited as the keynote speaker. She retired in 2014 as a Major General after 36 years of service in the active and reserve components of the Marine Corps. Over a dozen wreaths and flower bouquets from community groups and organizations were placed in front of the Nisei War Memorial Monument.
On the same day, White River Buddhist Temple and Rev. James Warrick held the temple's traditional annual cemetery visit memorial service. Warrick visited four cemeteries including Sumner Cemetery in Sumner, Auburn Pioneer Cemetery, Hillcrest Burial Park in Kent and Washington Memorial in Seatac.