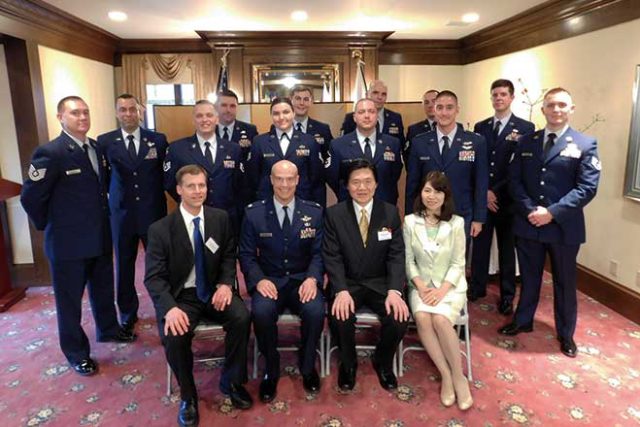 By Shihou Sasaki
The North American Post
The Consulate General of Japan in Seattle hosted a networking and friendship luncheon on Feb. 19 for the local community and U.S. military representatives who have served in Japan.
The U.S. military has been a core part of the U.S. – Japan alliance with about 52,000 soldiers currently serving on military bases in Japan. Those who have served in Japan and additional family members can be a unique asset in strengthening U.S.-Japan relations.
Consul General of Japan Masahiro Omura said that the military 's contribution has been helping to build a strong U.S. – Japan relationship for decades.
The Puget Sound area has army, air force and navy bases, which have also served to create regional Japanese communities with many Japanese immigrants who married American soldiers.
The U.S. army also holds a joint military training with the Japanese Ground Self-Defense Force at the Yakima Training Center every year. According to Major General William Fuller, the training budget is about $7 billion, making it the third largest joint military training in Washington State.
The military relationship has been also recognized by the local Nikkei community with the Nisei Veterans Committee hosting a community luncheon with the U.S. and Japanese military representatives during the joint training every year.
Last year, Consul General Masahiro Omura recognized former Military Intelligence Service soldiers who served during the occupation of Japan after World War II.