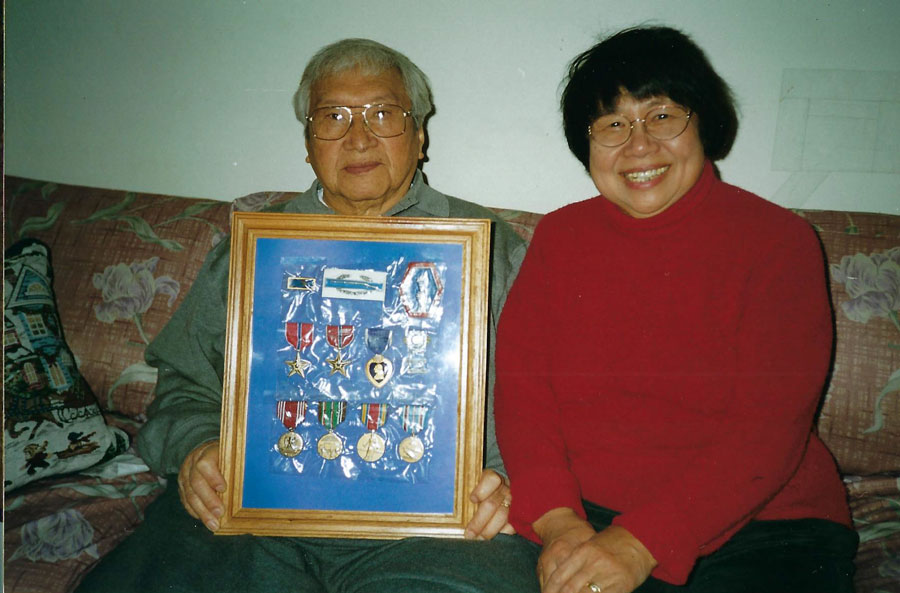 By Mikiko Hatch-Amagai, for The North American Post
"At the field camp (in Europe), kids came to us begging for food, with pans in their hands. Hakujin soldiers kicked them or dumped their leftovers in the garbage in front of them, but us Nisei soldiers, we put our leftovers in each of their pans, thinking that they were like our (Nikkei) kids at home (in the camps) in America…," Edie Horikawa recalls.
He witnessed how war affects children more. Edie had taught art classes to about 200 children at Pinedale relocation center in California before he joined the army.
"The classes were meant to keep them out of mischief, but it was the most enjoyable time," he remembers with a smile.       
Edie was born in Nihon-machi in Seattle. His father, Komakichi, came to the US to farm near Sacramento from Kansai to help his own mother and eight sisters after his father's death in 1890's. The father went back to Japan to marry his high school sweetheart and together, they came back to the US, and settled in Seattle.
Komakichi, having studied English and how to cook during his previous stay in California, worked as a cook in a prestigious hotel in downtown Seattle and started Horikawa Hardware Company with a Nikkei partner. It was in the heart of Nihon-machi, on the ground floor of Fuji Hotel (now the location of Hing Hay Park) on the south side of the present Bush Hotel.
Edie's childhood is filled with good memories.
"I used to eat ice cream or mochi. There was mochi factory in the basement of Shibata ice creamery at the corner of Maynard and South King. At the movie theater across the street, they let us go in and we watched cowboy movies or space movies. Sometimes, the ticket lady would say, 'hey, it's a bad movie' for adult-type ones and she would kick us out…"
Edie's father suddenly had a heart attack and passed away a day before Edie's 17th birthday. His mother followed her husband with pneumonia a couple of years later. The Horikawa Hardware Company was taken over by the partner.
The war broke out and Edie was sent to Pinedale, California, where he was asked to help set up the camp and he taught kids the art classes. He was 19 years old. Then, he was sent to the Tule Lake internment camp. There, the big argument started about loyalty to the United States and willingness to serve in the US military ("No No" and "Yes Yes"). Edie chose Yes-Yes because he remembered his late father's words.
"My father always said to me 'you were born in America and you have to be loyal to America. You have to obey your president.' That was my father's philosophy."
And he respected it.
Edie went to Army Recruitment Center in Salt Lake City for the physical examination but didn't pass it. He was listed for limited service because his eyesight was not good enough. Edie was sent to Heart Mountain instead of going back to Tule Lake because of concerns about his safety as "Yes-Yes" boy back there. At the new camp he became a truck driver delivering coal.
"I used to drop coal in front of older people's doors because it was hard for them to carry it. But I wasn't really supposed to."
He decided to go to an engineering college to study electronics in Chicago. However, the war and the manpower situation became more severe and he was drafted. At the Milwaukee recruitment center, he passed the exams and finally joined the Japanese-American 442nd infantry battalion in June 1944.
It reached 118o F in the shade at Camp Shelby, Mississippi. As a basic trainee, he went on the famous 25-mile hike, which very few completed. Carrying the same weight pack as the others, he did 20 miles and collapsed.
"Last time I was listed for limited service because of my eyesight. This time, I had a training as sniper rifleman. I was pretty good, nine out of ten (bulls eyes)," says Edie.
He was assigned as a rifleman to K Company, 3rd Battalion.
In November 1944, Horikawa landed in Glasgow, Scotland, sailed to Le Havre, France, and marched to Epinal, in eastern France.
"My first duty was guard duty because for some reason, I could see well at night."
But he was hurt there.
"It was raining hard and I heard Germans shouting, then I felt a sharp pain in my leg."
The Germans blew up a truck nearby.
"I felt blood running but I wasn't supposed to leave the position."
He reported to the captain, then went to the aid station. The incident led to his first Purple Heart, but the wound also made him dependent on a cane.
The battlefield in December was indescribably cold without winter clothes.
"I saw frozen German soldiers here and there."
The clothing shipment was late arriving and many soldiers got frostbite. They still marched south along Highway 65, northern Italy, and in January, they joined the 442nd First and Second   Battalions in liberating Florence, Pisa, and other small cities.
Edie limped a little but was assigned as a sergeant of the riflemen, marching up a hill when he heard a big blast. He was thrown down and covered with debris and dirt and his men could only find his dog tag.
"I was listed as Sergeant Hideyoshi Horikawa, missing in action. They divided my belongings and sent the remainder home."
A non-442nd soldier found him and took him to the hospital in Bologna.
"I was knocked out and I didn't remember who I was."
He wasn't sure about himself until he joined the Nisei soldiers in the Japanese section of the hospital. He received his second Purple Heart.
The end of the war was near when he ran into German soldiers surrendering. Many of them appeared to be 13 or 14 years of age.
"We Nisei soldiers treated them with respect to the Geneva Treaty."
The soldiers learned about the bombing of Hiroshima and Nagasaki in the summer.
With the end of the war, the Military Intelligence Service came to recruit Japanese Americans who understood Japanese to send to Japan. As he had graduated from Ishii Gakko, which had a reputation for a high level in Japanese, he was asked but declined to go. In April 1946, Horikawa received an Honorable Discharge at Fort Lewis, Washington.
After the war, Edie went back to school with the GI Bill. He studied at Washington State University in Pullman, at the University of Washington, Seattle, and at Burnley School for Art, on Capitol Hill in Seattle (today's Art Institute of Seattle). He received a Master's Degree in Fine Arts from the UW in 1961.
Edie got a job at the Boeing Company but left it to go to Japan with his wife, Norigiku. They stayed there for ten years teaching at a translation school.
Edie became interested in Buddhism and was ordained as a Jodoshu priest. He was also influenced by his wife, who is from an Ikenobo Ikebana flower arrangement family.
"I wanted to learn flower arrangement to present to Buddha."
Eventually, he mastered and received the highest degree of ikebana professorship.
Edie and Norigiku came back to the US and Edie returned to Boeing. Since his retirement in 1987, he has devoted his life to ikebana. He likes its discipline, concentration, and contemplation, but most of all, because it calms.
"Once upon a time, warriors (of the Sengoku period in Japan) had to learn ikebana before going to the battlefield."
Contrary to those days, in the battlefields of Europe in more recent times, he saw children: German children fighting with enemies, French children fighting for food, and at home in the US, our Nikkei children were fighting against racism.
"You should have compassion for children. They are the most vulnerable," says Edie, who lost both his parents when he was a teenager.
The war confirmed his belief in goodness. For him, the beauty doesn't stop within the world of art.
Editor's note. This article, the third in the 13-article series, is reprinted from The North American Post-Northwest Nikkei, December 6, 2003. The remaining interviews will appear monthly across 2021.