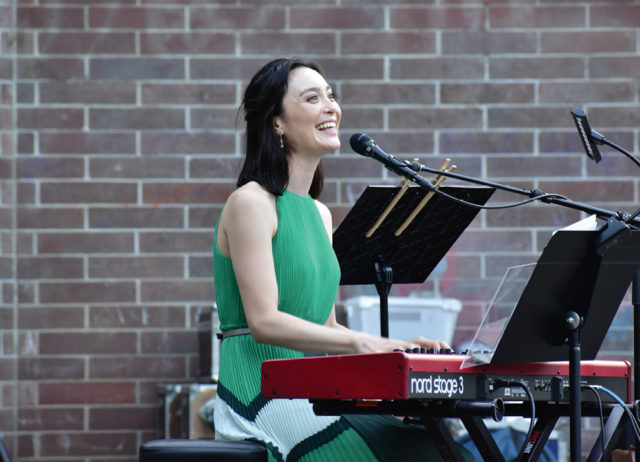 Opening Doors through Music & Mentors
Emi Meyer, Singer-Songwriter
Emi Meyer is a singer-songwriter active in Japan and the US. She is the child of a Japanese mom and American dad. Emi won the Seattle-Kobe Jazz Vocalist Competition in 2007. For her debut album, Curious Creature, she was selected for the year's best new artist in the jazz section of the iTunes Store. Her songs have been used in many commercials, including ones for Coca Cola's Sokenbicha tea and Toyota's Prius. Her collaboration with Amazon, "Everything this Christmas," is also streaming online. Last year, she released Wings, her first album in four years. Info: https://emimeyer.jp
Singer-songwriter Emi Meyer was born in Kyoto and raised in Seattle. Last year she celebrated the 10th anniversary of her debut with a triumphal performance in Seattle in July after a seven-year absence. We spoke to Emi about the past, her comeback after marriage and having a child, and what the future holds.
By Hitomi Kato, translated by Bruce Rutledge. Photos: Hitomi Kato, Emi Meyer
Her Seattle Days
Emi's mother was a University of Washington graduate student in art history on a 1-year Fulbright scholarship to Kyoto when she gave birth. "I returned to Seattle soon after I was born," she says. "At first we lived in Ballard. I remember I really liked the Ballard Locks. We would take walks and I'd play in the dirt and on the grass. My first memories of Seattle were of being in nature in Ballard."
Influenced by her father, who worked at the Seattle Asian Art Museum, Emi liked to draw. When the family went on a trip, Emi and her dad would draw pictures of the same things together. "During Christmas and New Year's, we would go to Japan. We also went to Spain and Italy. The drawings I made when I was about 10 years old were the best. I was free and I didn't worry about how I drew. I'm impressed with the artistic imagination of children. I went to a lot of art classes in Seattle. I was totally into it, so I didn't feel pressure. I enjoyed it just as I wanted to."
She started learning the piano at the age of 6. She took lessons in Bellevue. "My piano teacher was like a grandma to me," Emi recalls. "She didn't order me to play this or that. She was a teacher who helped pull out my individuality. I love Debussy. His compositions are so colorful. I was absorbed in the music when I played."
On weekdays, she went to the local school, and on Saturdays, she went to the Seattle Japanese School. Emi confesses that she was a different person at the local school and the Japanese school. "I had my half and mixed friends at the Japanese school, so I didn't get very nervous. I behaved sociably. But at the neighborhood school, some of the other kids were really strong-willed, and I became shy."
Emi says she didn't know where she belonged and use to wonder if there two different versions of her. The piano was the thing that brought those two Emis into a unified whole. When she played the piano, she didn't think about what sort of person she needed to be, nor what she should say … all of that disappeared as she concentrated on the keys. Her performances were well-received at both the neighborhood school and the Japanese Saturday school.
"When I played the piano, I was accepted by everyone and I didn't have to worry about trying to be cool or being more outgoing," she says. "This is how I came to meet people. It was through my music. When I sat down at the piano, I knew my place in the world." Emi found her own identity through her music. "Was I a Japanese or American, white or Asian American, or an immigrant? It wasn't any of those things but as a musician that I established my identity, I believe."
Meeting Important People

"I am most relaxed when I am surrounded by musicians," she says. "We deepen our bonds as we talk about music." The piano in her house is a Steinway, the same piano she first played with her old teacher. It makes the sounds she has been most familiar with since childhood. When she plays live, she is most at home on a Steinway. "Although my teacher has passed away, I sometimes think about her as I play," she says.
At first she played on an upright piano; but just as she started thinking that to be serious about this, she should be playing a grand piano, a man in her neighborhood sold her a grand that was in his house and not being used. "It's an expensive item, so I think it was not cheap for my parents," she recalls. "They believed in the talent of their daughter, who was absorbed in the piano, and wanted to support my growth. I am very grateful."
She got a whole bunch of jazz cassettes from a childhood friend whose dad played jazz trumpet. "Thelonious Monk and Miles Davis and so on. I hadn't listened to them in a long time, and they were collecting dust, but when I was in middle school, I was invited by a friend to join a jazz band and I began listening to the tapes. I hadn't been interested in them at all to that point, but then I fell hard for them. I listened to them over and over. Then I began to learn all about jazz from my friend's dad." From that point until she graduated from high school, she attended the jazz workshops at Port Townsend every year. One of the band members on stage last July with Emi now teaches at those camps.
Emi began playing jazz and classical piano on a part-time basis at an Italian restaurant in Pike Place Market, the Pink Door, and other places. She also began to write music. She even blended in a few of her original pieces with her part-time repertoire. "It's background music for the restaurant, and barely anyone is listening," she says with a laugh. Emi also started singing while playing piano.
When Emi was attending university in Los Angeles, she got a call from the mother of a childhood friend from the Seattle Japanese school. "There is a contest here in Seattle. Won't you come back and enter it?" the mom asked me. It was the Seattle-Kobe jazz vocalist contest. "That's what pulled me in," Emi says. Winning that contest launched her singing career. She was 18. 
Emi also met a friend while attending university who had been raised in Los Angeles and was familiar with the music business. That friend heard Emi perform a song at a school dormitory. She couldn't bring herself to say she wrote the song herself, so she lied and said a friend wrote it. The friend retorted, "You wrote it, didn't you?" "She saw right through me," she says with a laugh. "She said I should sing it in front of other people, giving me a boost. She said, rather than keeping something like that all to yourself, an artist needs to have others hear it." The friend booked some studio time for Emi. She made an EP with four songs on it. This was before her debut, "Curious Creature" and has yet to be released. "It was all handmade. The CD is called Magnolias. Outside the window of the house in New Jersey where my dad grew up, you could see magnolia trees. The song was made in the image of those trees. It's probably because of the way I was raised in Seattle, but I always turn to greenery and nature. My piano at home is surrounded by windows. That's why I am adept at singing while seeing and feeling the trees, branches, leaves, wind, etc."
Emi says getting to know people is the most important part of her life. "It's like opening a door to a different world," she says. Your path is decided by who you meet, and you are invited into worlds you never knew before by different people. When you share the world with special people, you can do things that you couldn't manage alone and understand things you couldn't understand by yourself. You can learn to like things you once feared. The parents of my childhood friends, friends from my university days – if I hadn't met those people, I wouldn't be here. That is still so important to me."
Live Concert in Volunteer Park

She arrived in Seattle just before her performance this time. "I was struggling with how to bring the band members together," she says. "I hadn't brought any budget from Japan. How were we going to blend in a live Seattle performance?" Emi decided it was best to work with Seattle area jazz musicians. She decided to ask her piano teacher and sometime consultant Bill Anschell to choose her bandmates. Coincidentally, all the members were born and raised in Seattle. "It was just right for this event" Emi says. "Bill is very detailed. He held rehearsals with the band members before I arrived and went through the songs. He sent a recording to Japan so I could listen to it and make any adjustments I needed to. Some musicians are good at that sort of thing, and others aren't. He is really good at it."
Once the members had been selected, Emi put emphasis on the live experience and their personal compatibility on stage. She liked the idea of bringing together local musicians more than bringing a band from Japan. "When there is a language gap, it's difficult to communicate from the stage at times," she says. "For example, when performing in Korea, if a musician can speak Korean, he or she can interpret my comments, and that brings the audience closer." Basically, musicians communicate in English, but Emi seems to communicate more with her music than her words. "If we are musically compatible, we will be compatible in other ways," she says.
The live performance began just after the group members met each other. There was a point where the tempo was off, and they had to restart. "As we were exploring, we banged into a few production elements, but that's simply what happens in live sessions. There was a moment of panic, though. (laughs) But Seattle audiences are very nice. The members were quite happy standing in front of that big audience. When I listened to the recording afterwards, I could feel the energy and excitement of the performers."
Her performances in 2011 and 2012 were at the Sorrento Hotel on First Hill. It's an old-fashioned hotel, and people listened to the free live performance while sipping cocktails by the fireplace.  "It's too bad they stopped the jazz shows during the hotel renovation," she says. "There was a long time in between my performances, and I wasn't sure who would show up." But a surprise awaited. The space was filled with older men and women. People she knew in her youth in Seattle showed up with their families. "Everyone I was familiar with had become parents. It felt strange," she says. "The local staff said this was the most diverse crowd they'd seen at a Volunteer Park performance. It made me very happy."
Ten Years of Performing

After 10 years of performing, Emi says she knows now "there are no shortcuts." Nowadays, one can have moments when buzz on the Internet helps a lot, but back when she started, real money meant signing with a major label. "For me, I didn't have the support of a major label and I don't make music that is easy to sell. Also, I'm singing English songs in Japan. But I know some kids who had major debuts 10 years ago and are standing in the same place as me now looking for direction. If I could send a message to my earlier struggling self, I'd like to say, you can get to this place in 10 years."
In Japan, there weren't many musicians that did like Emi did, hiring musicians and producing her own album. That DIY mentality seems like a Seattle thing. Emi laughs at the idea. "If you get support from a label, they'll be telling you to do this and that, and you'll have to make some changes. My first step out into the world is the sound of my piano. I had that obsessive feeling. I wanted to protect my music. Next, if I wanted to sing in Japanese, for example, and challenge myself freely, I can discover my identity as an artist."
The Real Emi Meyer

Emi, born in Japan and raised in the US, doesn't see herself as Asian American. She came to the US with her mom, so she feels more like an immigrant. But the American media often categorizes her as an Asian American jazz singer. She says she sometimes thinks, "What am I?" In college, even when she joined a club for Asian Americans and mixed-race people, everyone had different experiences, and nothing really stuck for her. "I felt that wasn't really the place for me. My music style is also hard to classify. It's not jazz or pop, and not ethnic …I've given up trying to fit into the normal categories," she laughs. She spends time with people she likes, hangs out with friends, uses her own money to release her own music. If people like it, great. This is how Emi thinks. She's less interested in how her words or music forge her identity and more interested in which friends understand her and what sort of fan listens to her music. Now, she isn't looking inward; she's connecting with the outer world.
"On my first album, I was searching for my identity going deeper and deeper inside. Even if I try to show what sort of person I am, people will see whatever they want to see. I realized that my struggle finding my identity was meaningless. My music rings out to the fans and friends who listen to it, so even if they don't clearly see who I am, I feel like it's working. Eventually, I'll go beyond that and come to a day where I realize, I'm this sort of person after all."
A Mother and an Artist

Emi had her daughter in 2017 and became a mother. When Emi was on her own, she thought about what she wanted to do, what other people said about her, etc. But when her daughter was born,  that all receded into the background. "My awareness had gone from myself to my child," she says. "It became easier."
She feels lucky that she can raise her daughter while also producing albums and going on tour. Doing both is difficult, but she thinks being a mom helps her career at the same time. "When I am practicing piano or getting ready for a live performance, my daughter will come calling. In those moments, I don't want to say that work is more important than her. At home when we are together, my daughter is No.1. I don't want her to think she is in a fight with the piano in front of her mom. Since I have limited time to work on my music, I am more focused and use my time wisely."
Before, she would worry about forgetting the words to a song when getting up on stage, but now, she doesn't worry so much. That's one aspect of becoming a mother. "I've changed diapers right before going on stage," she laughs. "There's no time to get nervous! It feels like I have my feet on the ground. I also feel great respect for all women. My mom included, women have been struggling for generations, giving birth to children, raising them. People find time come to my concert during their busy lives. I feel much gratitude. I've become sensitive to the importance of people's time."
The album she released in June, Wings, was recorded in Nashville while she was still pregnant. The songs "Original" and "Nashville Lullaby" were for her yet unseen daughter, hoping that she will raise her to be her true self. "How can I support the original spirit she is born with, that pure part. 'Nashville Lullaby' is a commemoration to the perfect song for a baby still in the womb and just beginning to hear."
Emi has been releasing albums annually since 2009. "This may be my last physical album," she says. It is mostly an MP3 world, but the pride of a manager who loves analog record led to the October release of Wings as a single cut. The record has the warmth and vividness of uncompressed sound and emits a three-dimensional feeling. As a musician, it is wonderful to hear the song this way. "I'll continue to steadily create songs and think about what sort of album I should put out." She says. "Next year or the year after that, I want to return to Seattle to perform!"
Wings

Released in Japan on June 12, Emi's album was recorded in the Music City of Nashville, Tennessee. She recorded at the Blackbird Studio, which has been used by Taylor Swift, John Mayer, Beck, and many other well-known stars. The album includes a lot of positive songs full of kindness and hope. You can find it on Spotify and other streaming services. The album is scheduled to be released in the US later this year.