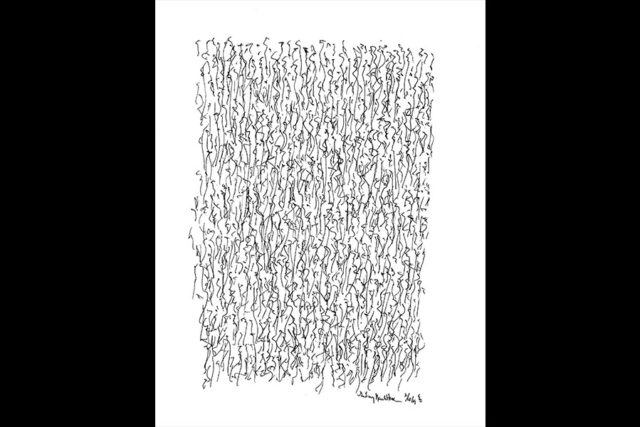 by Carole Okamoto, For the North American Post
This piece represents the diaspora – "the movement, migration, or scattering of a people away from an established or ancestral homeland" .  "Moved" – or rather – removed involuntarily from their homes.  "Migration" – or rather – shipped far away to unknown places .  "Scattering" – or rather – flung into desolate, isolated places.  Some never to return.  Many forced to make a new home – elsewhere.  The diaspora of the Japanese and Japanese Americans on the West Coast in the mid-forties was not a voluntary one – it was forced… by our own Government.  It was allowed…by the people of this country.  It was compelled – by the sentiments of the day. 
Some came back home after years of absence at war's end.  Some willingly, some reluctantly.  All unknowing what awaited them.  Some returned to nothing while others returned to acts of terror – drive-by shootings, arson attacks, property vandalized .  Some came and then left.
$25.00…that's all the Government gave them to leave America's concentration camps.  That amount is the equivalent of $349.69 today.  Can you imagine returning to Seattle after a four-year absence with less than $350.00 and expecting to "rebuild" your life somehow?  It's unimaginable.  It's unthinkable.  And yet, that's what they did – somehow. Unbelievable.
This piece evokes emotions.  Sadness in their losses.  Anguish in their inability to return.  Anger in the sheer madness of the day. 
The Long March Home is a visual depiction using Asemic writing (or visual poetry) that represents downtrodden feelings, trails of tears streaming, elongated years inflicted on so many.  Lives delayed by unconstitutional incarceration over so many years – in education, in marriage, in childbirth.  The list goes on and on and on.  It was a very long march home for far too many…
About Asemic Writing – or Visual poetry
Asemic writing is a wordless open semantic form of writing. The word asemic means "having no specific semantic content", or "without the smallest unit of meaning".  Asemic writing is a hybrid art form that fuses text and image into a unity, and then sets it free to arbitrary subjective interpretations.
Carole Okamoto is a sansei born in Oakland, CA. Her mother's family was incarcerated in Jerome, AR, and her father's side in Poston, AZ. She moved with her parents to south Texas when she was 13 months old. Carole holds an MBA and received a BS in Health Informatics from the University of Texas. She moved to Seattle and taught at UW, retiring in 2015. A woman of many talents, Carole dedicates her work to her parents, honoring their courage, dignity and grace.