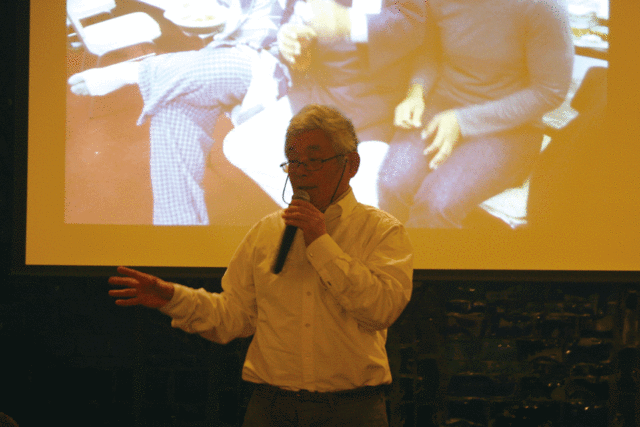 Nearly five years have passed since the massive earthquake and tsunami disaster that hit the Tohoku area of Japan. In commemorating the victims and support the region's recovery, one project near Sendai is also helping to build new friendships between Japanese and American gardeners.
Five gardeners from the United States including local landscape architect Koichi Kobayashi have been working with nearly 50 Japanese gardeners who voluntarily participated in the Japanese garden project "Garden of Enlightenment of Tohoku."
Kobayashi, who was in China for a business trip on March 10, 2011, confessed that he was seeking a way to contribute to Tohoku.
"[I was thinking,] 'How can I help people's recovery, hopefully in a professional way," he said.
Upon discovering the garden project led by the Garden Society of Japan and its Miyagi Prefecture Branch, Kobayashi joined the project last year and decided to bring in Team North America to build up a U.S.-Japan gardeners' friendship.
Working with the North American Japanese Gardeners Association, Kobayashi and four American gardeners joined the program in October, including Francheska Snyder of Philadelphia, Jeff Burton of Manzanar, Calif., Jacob Kellner Saratoga, Calif., and Don Chamberlain of San Jose. All are experienced gardeners who have worked for Japanese gardens while Burton has been involved with the gardens built at the Manzanar incarceration camp during World War II.
The two-acre Japanese garden, which Kobayashi called "visually larger," is located at Kakushoji Temple in a suburb of the Sendai area. The Japanese Gardeners Association and its Miyagi Prefecture Branch planned the garden as a training center for young gardeners who can learn how to build a traditional Japanese garden.
Kobayashi said that veteran gardeners were actually willing to join the project to help support Tohoku's recovery despite the original plan.
"This is a great project that volunteer gardeners come for a garden," he said.
The garden project was begun in 2013 and will be completed by 2019. Kobayashi said that the project is funded only by private support and the gardeners' contributions, but more financial support will be needed in the near and long-term future for garden maintenance.
Kobayashi added that he will visit several locations in the states to join various meetings and find a way to continue funding this project.
"We all feel it is important to communicate to the world on this worthy project and on Japanese gardens," he reflected. "We would like to be part of it."