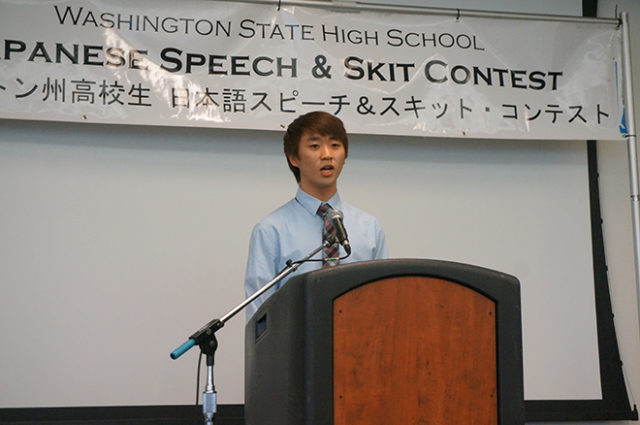 by Misa Murohashi,
In Washington State, Japanese language education is vigorous and about twenty five percent of public high schools in the State offer Japanese language study programs.* The Japanese Speech and Skit Contest was initially held in 1983 by Japan-America Society of the State of Washington with the purpose of providing Japanese learners with opportunities to demonstrate their progress. Hyogo Business & Cultural Center took over the contest operation and has been hosting it since 1994. Washington Association of Teachers of Japanese and Consulate General of Japan in Seattle became co-hosts in 2014, and today the contest focuses on high school students.
"Every year, about eighty students attend the contest and perform group skits or make individual speeches," explains Hideaki Kawachi, Executive Director of Hyogo Business & Cultural Center. Last year, Jin Ahn from Inglemoor High School won the first prize at the highest level contest (which is Level 4, for students who have studied Japanese for four years), and was awarded with a trip to Hyogo, Japan. His speech was titled "Japanese Expressions." Ahn explained in fluent Japanese what he leaned about different cultures through different language expressions in English, Japanese and Korean – the first language he learned as a child.
This year about 65 students from 10 high schools will join the contest on Friday April 20th at Seattle Center Armory 2nd floor Loft room. The contest event is open to the public for free. For more information, visit jwspeechskit.wordpress.com.
*Information Source: Mapping and Enhancing Language Learning report in 2010 by the
University of Washington's Jackson School of International Studies
35th Washington State Japanese Speech and Skit Contest
Date: Friday April 20th Time: Skit Contest 9:00 am, Speech Contest 5:00 pm
Venue: Seattle Center Armory 2nd floor Loft room