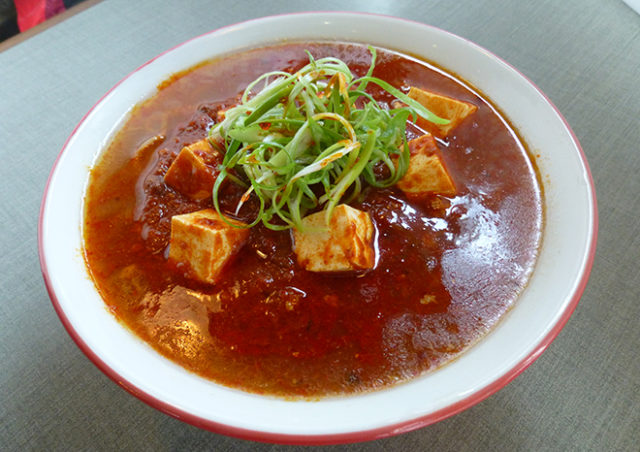 As the seasons change, we inevitably turn our thoughts to tasty autumn dishes. Fatty mackerel, crisp tempura, mouthwatering steak and much much more are featured in this autumn roundup of some of our favorite restaurants.
Interviews and articles by Misa Murohashi, Noriko Hantsinger, Ai Isono, Harmony Kelly, Azusa Ueda and Sumiya Kurihara. Translation by Bruce Rutledge
Teinei 
~This extremely spicy ramen is bound to make you sweat!~
Until October 31, tell the restaurant you saw this article in the Post, and you'll get 10% OFF your bill
This homemade noodle and sushi restaurant in South Lake Union buzzes with Amazon employees on weekdays. This October will be Teinei's first anniversary. Executive chef of Teinei, Kenichiro Tsushima used to work for a official residence of Consul-General of Japan in Seattle. His new autumn menu features Onikara Ramen. You'll be blow away when you first see this dish. The deep red soup with tofu and ground pork is reminiscent of the soups at the famous Tokyo restaurant Mouko-Tanmen Nakamoto. The soup and noodles mix well, leaving a sting of spice on the tongue and then doubling up by heating you to your very soul. In any case, it's spicy but it's also delicious. The soup is soy-based and served with coarse or finely ground red peppers, lots of ginger and broad bean chili paste.
"Since we're making a spicy ramen, we make sure we satisfy fans of spicy food by really making it spicy," Hall Manager Ryohei Ishibashi says. Of course, this dish is not just spicy. Try it once and it may become habit-inducing. It's a dangerously addictive dish.
Another item to be sure not to miss is the Shio Ramen, which has been on the menu since the start. Chef Shigeki Kawakubo, who is usually busy making sushi, says that his ramen has been getting better and better. "If you get too obsessed, there won't be any profit left for us," Hall Manager Ryohei warns the chef with a smile. The soup is Seattle-friendly, using no pork because of the diverse dietary choices here, and opting for a chicken base instead. The Shio Ramen brings out the soft chicken flavor even more. You'll want to drink every last drop of the clear soup. Napa cabbage and white leeks bring an elegance on top of the bowl.
On the sushi side of the menu, the restaurant introduces the Yellow Submarine this fall. Inside is a cucumber to stimulate your appetite, some crunchy Japanese pickles and scallop sashimi, all wrapped up in yellowtail for a memorable mix. Thinly sliced lime and shiso leaves offer an alluring aroma, and a homemade ponzu sauce using katsuo dashi brings out the flavors beautifully.
Actually, there is one more item we fell in love with at this restaurant. It's the spicy sauce, which takes four hours to make. It sits on each table and can be used on ramen, sushi, even white rice! It seems that this sauce is especially popular with the regulars.
There is free parking (for up to 15 cars) in the lot off of Pontius Avenue. If you like spicy dishes, don't miss this restaurant. Happy hour is 5 to 6pm and 8pm untill closing Monday through Friday, and all day on Saturdays and Sundays.
Teinei
1256 Republican St., Seattle | (206) 420-4500 |http://teinei-seattle.com