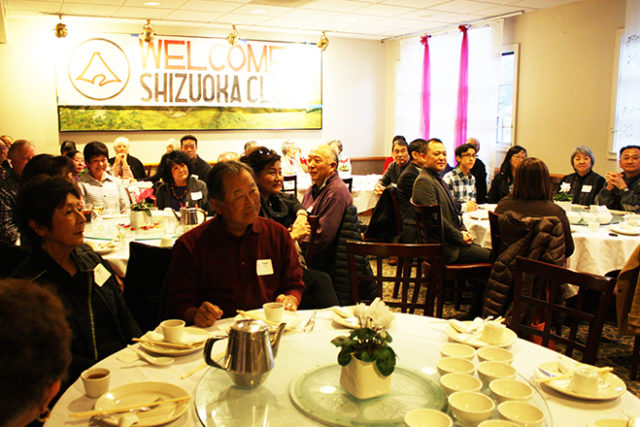 Shizuoka Kenjin Club
On Saturday February 11th, Seattle Shizuoka Kenjinkai held its New Year celebration dinner at House of Hong Restaurant in Seattle's Chinatown. Lillian Hayashi, President of the Seattle Shizuoka Kenjin Club welcomed club members and guests with a full-course Chinese meal, entertainment and gifts, including her homemade cookies and cakes. Members celebrated healthy elders over 80 years old with colorful azalea plants.
Kumamoto Kenjinkai
On Saturday January 27st, Seattle Kumamoto Kenjinkai hosted its New Year celebration luncheon at Blaine Memorial United Methodist Church on Beacon Hill in Seattle. Over one hundred members and guests enjoyed the gathering and entertainment. Starting with Opening Remarks and Moment of Silence in Memory of Deceased Members, everyone prayed before their meal, "Itadakimasu," together. In addition to hula dance, singalong, traditional Japanese dance, and martial arts demonstrations on the stage, there were prize giveaways to winners of bingo games. People also had a good time catching up and deepening their friendships with other members. Kumamoto Prefecture's popular black bear mascot "Kumamon" T-shirts were sold at the gathering and sales will be donated to relief efforts for earthquake victims.
Kokuseiryu Shigin Kai 国誠流詩吟会
On Saturday January 27st, Seattle Kokuseiryu Shigin Kai held its New Year celebration at Kawabe Memorial House, enjoying dinner and Shigin with attending members.