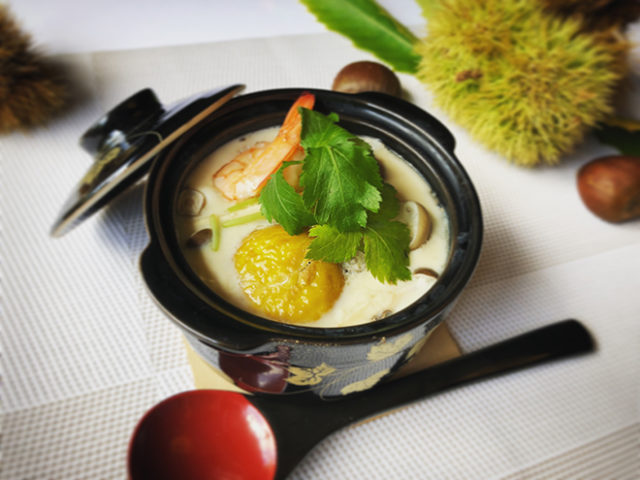 Kuri Iri Chawanmushi
Serves 4 | Prep time 30 minutes | Cook time 15 minutes
I have an emotional attachment to chawanmushi, a savory egg custard, which is often served at traditional-style Japanese restaurants as well as enjoyed at home as a special treat. I was a college student and worked at a fancy restaurant in Ginza (an upscale shopping district in Tokyo) as maîtred' six days a week. Towards the end of the night, chawanmushi would be given to staff as part of the daily family meal. It was the highlight of my long, tiring working hours. A comforting and flavorful cup of chawanmushi became my favorite food.
Chawanmushi is available year-round, but fall is a great time of year to enjoy this hearty dish if using ingredients for filling such as a variety of mushrooms. For example, when matsutake mushroom is in season, you have the opportunity to try its incredible aroma and texture.
Another seasonal ingredient is chestnuts. In my hometown Akita and most Tohoku regions, Kuri no Kanroni (pre-cooked chestnuts in syrup) are often used for filling. Although Ginnan (ginkgo nuts) are more common in the other areas, we can use fresh chestnuts that are available in local Asian stores right now to appreciate their natural sweetness and satisfying texture. Chawanmushi is traditionally cooked in a steamer, but this recipe does not even require a steamer. You can make a seasonal chawanmushi anytime you crave it!
Ingredients
4 fresh chestnuts
3 inch sheet kombu
¼ cup bonito flakes
2 large eggs, beaten
2 to 2.5 oz. boneless, skinless chicken thigh or breast, sliced into
8 pieces
4 shelled shrimp, deveined
4 fresh shiitake mushrooms, stems removed
mitsuba leaves for garnish
1 tsp salt
1 tsp sake
1 tsp mirin
1 tsp soy sauce
Instructions
Cook chestnuts
Boil 2 cups water in a medium sauce pan. Add chestnuts and cook for about 15 minutes. Strain and cool the chestnut to room temperature. Then peel the chestnuts using a pairing knife. Set aside.
Make dashi
Put kombu and 2 cups of water in a medium sauce pan and heat over medium-high heat. Once kombu is hydrated and water starts to boil, add bonito flakes and reduce heat to medium. Cook for a minute and remove from heat. Cool to room temperature and strain. Discard the kombu and bonito flakes.
Cook chawanmushi
Add salt, sake, mirin and soy sauce to 2 cups of dashi and mix well. Add the beaten egg in strain using a strainer or cheese cloth for a smooth, silky texture of the custard.
Have four individual-sized 3-4 inch tall heat-resistant cups ready. In each cup, place 2 chicken pieces, 1 shiitake, 1 shrimp, and 1 chestnut at the bottom. Carefully ladle ¼ of the egg batter over the fillings.
Pour about a quarter inch deep water in a sauce pan. Lay the 4 cups on the bottom carefully so that water does not get in the cups. Cover and turn on high heat. Once the water starts boiling, turn heat to low immediately and cook for 8 minutes. Remove lid and check for doneness by pressing the surface with a skewer. If the liquid is clear it's done. If not, cover and cook another couple of minutes.
Take out the cups using a cloth and garnish with mitsuba leaves. Serve hot.
Kanako, a native of Akita, Japan, is a chef, author and instructor focused on authentic Japanese homecooking. Chef Kanako also offers in-home private cooking classes for groups up to 12. You can reach her at info@kozmokitchen.com.
Looking for delicious Japanese party platters for your home parties? Kanako caters to small to medium sized private parties (up to 50 people) with a variety of Japanese small and large plates of appetizers, rice dishes and more. Rates vary depending on the type of service and volume of food ($300 minimum for Seattle area).