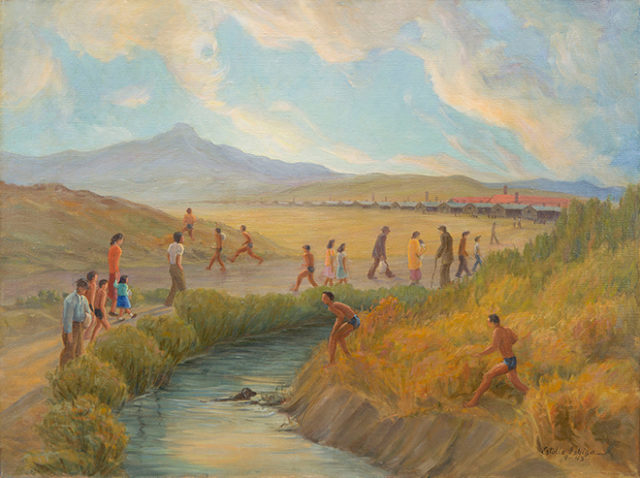 Japanese American National Museum, retrieved from the organization's press release
The Japanese American National Museum will travel its pop-up display of the Allen Hendershott Eaton Collection, which was saved from the auction block in 2015 through the efforts of Japanese American community leaders and activists, to NVC Hall in Seattle.
The display will be free and open to the public on November 24 and 25, from 10 a.m. to 5 p.m.
While conducting research for a book about arts and crafts objects created by Japanese Americans during World War II, author Allen Hendershott Eaton amassed a significant collection of such camp artifacts. After many years of being in storage and forgotten, the
collection was inherited by a family friend of Eaton's, who in April 2015 decided to put the artifacts up for auction. Japanese American activists and community leaders rallied successfully to stop the sale and ultimately, the collection was transferred to JANM.
Titled Contested Histories: Art and Artifacts from the Allen Hendershott Eaton Collection, the display includes physical or digital representation of every item in the collection—more than 400 individual photographs, sculptures, paintings and watercolors, jewelry items, vases, beads, nameplates, and other handmade items from the WWII incarceration camps that Japanese Americans were forced to endure.
In addition to providing the opportunity to see a collection that inspired strong emotions and decisive actions within the Japanese American community, Contested Histories is
intended to help gather information about each individual object so that the museum's efforts to preserve and catalog the collection can be as complete as possible. Camp survivors and their family members and friends will be encouraged to share with JANM
information they know or remember about the objects, including who is depicted in the many photographs, most of which were shot by photographers working for the War Relocation Authority.
NVC Hall is located at 1212 S. King Street in Seattle. For more information, visit nvcfoundation.org or email debbiekashino@gmail.com.
Support for the conservation and display of the Eaton Collection was provided by the National Park Service's Japanese American Confinement Sites Grant Program. Additional support was provided by George and Brad Takei, the Earle K. and Katherine F. (Muto) Moore Foundation, and Richard Sakai.
For more details about Contested Histories and its travel itinerary, visit JAPANESE AMERICAN NATIONAL MUSEUM.