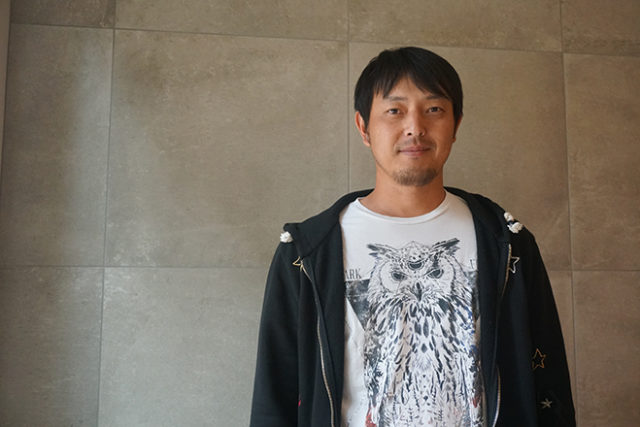 Thanks for Seven Great Years, Kuma!
At the baseball game at Safeco Field against the Oakland A's on September 26, Hisashi Iwakuma, the righhanded pitcher who had such a brilliant career with the Seattle Mariners, threw out the first pitch. It was a nice gesture by the Mariners front office to send the pitcher out in style. It was also an unusual outing for the surprised pitcher, who thought to himself, "But I'm not retiring." The gesture showed just how beloved he is by his teammates and the fans. That's the sort of guy Hisashi Iwakuma is.
Interview by Noriko Huntsinger, Translated by Bruce Rutledge
"I owe my baseball life to the fans and my family."
Determined to remain active
Our interview was arranged hastily on September 10, the day before Hisashi Iwakuma was set to announce his resignation from the team. We met at his home in a quiet residential section of Bellevue. The soft-spoken athlete listened quietly to my questions and answered little by little. He appeared to be an honest and serious person. How much was his mind occupied by the following day's announcement? I didn't detect any sense of sadness or despair. On the contrary, he gave off a relaxed, refreshing air. His minor league games were all finished for the season. His chances of returning to the Major Leagues were slim. When I asked him about his future course, he broke out in a laugh. "I don't even know," he said. "If I get an offer, I'll go anywhere. I'm up for the challenge."
He spoke with the strong intentions of an active baseball player. If he retired, there would probably be a place for him as an executive or staff member in the Mariners organization , but that wasn't the path he wanted. He is obsessed with remaining a player. His wife, Madoka, offered this: "He was injured, had surgery, and then, out of nowhere, he was ready for battle again. We were so happy! After his first game back, the family was thrilled."
Iwakuma injured his right shoulder and was put on the disabled list for most of the 2017 season. In September of that same year, he had surgery on his shoulder and signed with the Mariners to start the 2018 season. He was aiming to get back in the Majors. On August 31, he pitched two scoreless innings for the Single-A Everett Aquasox against the Vancouver Canadians, a Toronto Blue Jays minor league franchise. On his next trip to the mound on August 26, he had a feel for his pitches again.
"I owe my baseball life to the fans and my family. I want to continue to return the favor through baseball," he said.
Half a lifetime with baseball
Iwakuma started baseball when he was a first grader. He watched professional baseball on TV and decided it was for him. "I thought the uniforms and the way they played was so cool. I was saying it was my dream to become a professional baseball player since kindergarten." His father's understanding of the game as a sandlotter helped too. Iwakuma soon joined the local little league team. His older brother started playing with him a little later, and soon he was playing every day, either in little league or with friends at the park. "Today, it may be soccer, but back then, everybody played baseball," he recalled.
He steeped himself in baseball, continued to play and never lost his love of the game. "I tried every position, and they were all fun. But the pitcher was the coolest," he said. In third grade, he started playing in games with the older students. He remembers thinking at the time that "I can become a professional player." But he says with humility that he was lucky to become a pro. "It wasn't like I was far ahead of the other players," he says. "There were lots of great young players around."
In his junior year at Horikoshi High School, he was the winning pitcher in the spring tournament and he caught the attention of a scout who was there to watch the other team. This was his link to the pros. "If you don't get into Koshien, the media completely ignores you," he says, referring to the annual Koshien high school baseball tournament. "It takes luck to get to the pros." He was drafted fifth by the Osaka Kintetsu Buffaloes and was told the next three years would provide his training. "First, it was physical strengthening. I didn't appear in a game my first year." So the baseball-loving Iwakuma steadily built his strength. As a result, his technique improved. He moved from the second team to the pros and gained the confidence it would take to win. In his second year, he joined the first team. How did he motivate himself during that time when his future was unknown and he was doing strength training? "My dream of becoming a pro had come true. All that was left was to improve my strength and technique and advance to the first team. I believed that if I did this, there would be a place for me among the veteran players," he said.
Events that changed his outlook on life
Mergers and restructuring in Japanese baseball in 2004 had their effects on Iwakuma. The Osaka Kintetsu Buffaloes became the Orix Buffaloes. On top of that, he was traded to the Tohoku Rakuten Golden Eagles. "Starting from scratch is tough. Early spring in Sendai is cold," he said with a laugh. "But once you live there awhile, you realize how nice it is. The fans were great. We lost a lot of games at first, but the fans never wavered in their support." After playing with the restructured Orix Buffaloes, he brought a fresh attitude to the 2005 season with the Golden Eagles. "I experienced a lot of growth as a baseball player and as a person," Iwakuma recalled.
During the three years he played for Rakuten, he was plagued with injuries. "Up to that point, I just was playing the game I loved. But when I couldn't pitch, I had to face some dark thoughts for the first time. But the fans were always there for me. From the bottom of my heart, I want to show my gratitude to them for being able to play baseball, which has revived me and helped me grow." This is also the time when the seeds were planted for another move: "I wanted to see if I could make it in the Major Leagues."
When Japan won the 2009 World Baseball Classic, Iwakuma went up against the best baseball players in the world. His ambition had become a reality. "I wanted to experience first hand how their baseball was different from Japanese baseball," he recalled. "Then we experienced the earthquake in Sendai, which made the opportunity to go to the US more of a reality. If I succeeded in the Majors, I thought I could bring support and energy to the people of Tohoku."
In 2012, he signed a one-year contract with the Mariners, and the Iwakuma family moved to Seattle. "When it was decided that I was joining Ichiro on the Mariners, I was very happy," he said. What was his impression of Seattle before he arrived? "It was the town where Ichiro lived," he replied. When he arrived, he liked the climate and felt right at home because the city had a similar vibe to Sendai. And what was it like to play here? "Japanese baseball and American baseball are completely different," he said. "First, the power is different. And the speed. Even the players' stature and strength are different. Also, individual results are everything in the Majors. If you don't produce, you'll quickly be fired. Japan isn't quite like that."
One of his teammates, Felix Hernandez, became a good friend. The King and Kuma led a dominating starting rotation that is still fresh in our minds.
"He's a Japanophile. He told me he likes Japan and sushi," said Iwakuma of The King. There are more Japanese players in the Major Leagues these days, so during spring training in Arizona, he'd get together with Yu Darvish, Kenta Maeda and others for dinner. There were some tough times during his seven years in the Majors because of injuries, but all in all, he enjoyed getting to know other players from around the world.
His wife, Madoka, said that "Mariners players would often send text messages to him. When he lost a game in 2016 that could have helped them get to the playoffs, he received texts in Japanese that said 'Kuma, genkidashite' (Kuma, don't feel bad) and 'Kuma, nakanai de' (Kuma, don't cry). It was inspiring. In 2015, when he was re-signed by the Seattle Mariners, and not the Los Angeles Dodgers, we were very happy." She added that
whenever Iwakuma came back to Safeco Field from a rehab stint in the minors, his teammates would all welcome him back, shouting "Okaeri, Kuma!"
"All I have is good memories of Seattle," Iwakuma said. His teammates and fans sent him farewells and thank yous via social media and in other ways, cementing the good feelings he has for the city.
Continuing to contribute to Japanese society
During the off-season, he returns home or spends time in Sendai, where Madoka's family lives. Since his time with Rakuten, he has visited the area often, going to the disaster area around the coast of Iwate Prefecture to offer support. "All in all, how many hours have I spent there? I always spend a long time there. I visit every year. I see the roads getting repaired, the city getting cleaned up. Step by step, they are making progress. Though their wounds aren't healed, I try to bring a little cheer when I visit." People in
temporary housing really light up when he visits, he says. Offering support gives him power, he says, and positively affects his playing. He offers support to the earthquake orphans and to the affected areas of Kumamoto. He gets the kids to smile when he holds baseball classes in those places, he says.
Iwakuma opened a sports training facility called IWA Academy in March 2016 to offer another way to support Japan. He is the co-owner and supervisor of the staff of about 15. "I thought it might be a good way to contribute to society by offering a comfortable place for kids, senior citizens engaged in rehabilitation, and men and women of all ages to get professional training and treatment. It's not just baseball; we teach a lot of different sports techniques. We have a really excellent staff and it feels like everyone is part of one big family," Iwakuma said. The word is that children who get trained here see results when they return to their local teams. The school is full, but they still get lots of requests to learn the school's methods.
In the same year, Iwakuma started an anti-bullying program called Be a Hero. In the off-season, he toured Japan giving lectures on how bullying can be eliminated through science and about how to stop bullying outside of the school such as child abuse in the home and abuse of authority in sports. "A child's potential can change based on a teacher or a way of teaching. When engaging in sports, it's necessary to offer appropriate education for a child's personal development," he said. "The old way of dragging spiritualism into extracurricular activities should change too."
The local newspaper and media tout Iwakuma's achievements. When we talk about that, the reticent Iwakuma breaks into a big smile. Where will we see him next? When he threw out the first pitch on September 26, Special Assistant to the Chairman Ichiro surprised him by being the catcher. The big screen played highlights from his 2015 no-hitter. Fans who rushed to the stadium to see Iwakuma throw his last pitch broke out in applause. "I feel very grateful," the pitcher said. And that's how we Mariners fans feel too.
"I want to show my gratitude to them for being able to play
baseball, which has revived me and helped me grow."
Hisashi Iwakuma
Born April 12, 1981, Iwakuma grew up in Tokyo. After graduating from Horikoshi High School, he played for the Osaka Kintetsu Buffaloes, the Orix Buffaloes, the Tohoku Rakuten Golden Eagles, and then the Seattle Mariners. In Japan, he's won many honors and was the driving force behind Japan's 2009 World Baseball Classic championship. He joined the Seattle Mariners in 2012. In August 2015, he became the second Japanese pitcher to throw a no-hitter in the Major Leagues. In 2016, he became supervisor of the IWA Academy in Tokyo, which helps everyone from children to adults train and learn about being athletes.