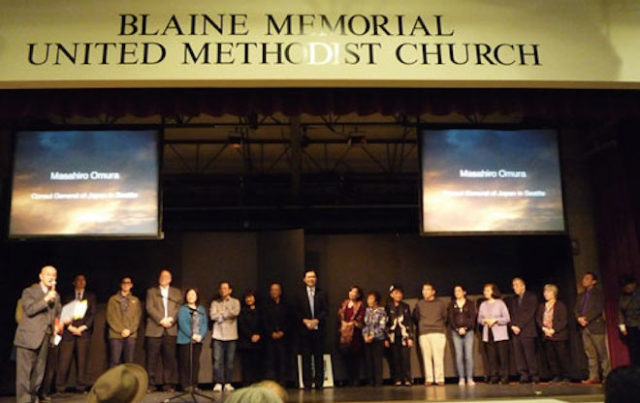 By Megumi Matsuzaki, translated by Bruce Rutledge
World War II era Japanese diplomat Chiune Sugihara was honored at an event on April 9 at the Blaine Methodist Church.
Sugihara was born in 1900 in Gifu Prefecture. Just before World War II, he was appointed vice consul for the empire of Japan in Kaunas, Lithuania. In 1940, Jews being persecuted by the Nazis in Poland came to the consulate looking for exit visas. Despite the directions of the Japanese Foreign Ministry to not issue visas, he ended up issuing more than 2,000, saving the lives of as many as 6,000 Jews.
The event, called"Conspiracy of Kindness: You've Given Me Life"attracted more than 200 people. Alton Takayama Chan, a storyteller of Japanese, Korean and Hawaiian descent, performed the part of Sugihara, speaking about his decision to issue visas, about his stance and his family in the voice of the vice consul. That was followed by a panel discussion with Ken Mochizuki, third-generation Japanese Lori Tsugawa Whaley, and Dee Simon of the Seattle Holocaust Center. Each spoke from his/her own area of specialty about Sugihara's life, his Bushido spirit, his bond with his wife Sachiko and family, the lives of the people he saved, and the lives of others who worked to save the Jews from the Holocaust.