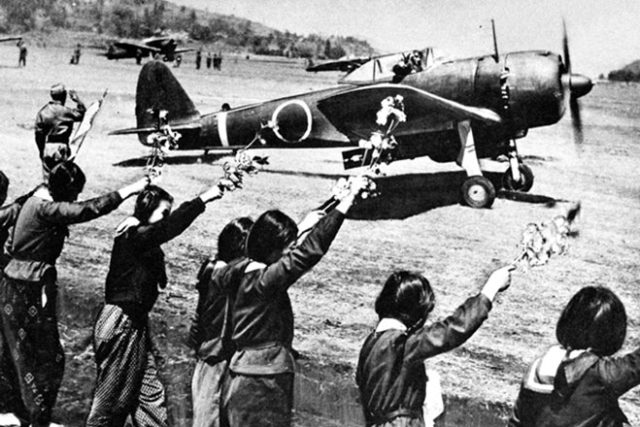 Scattered Blossoms
By David Yamaguchi
IN RECENT WEEKS, much has been made of cherry blossoms in the U.S. press. Topics have included the sudden cold spell that damaged the incipient blossoms in Washington, D.C., the name for the malaise of worrying about the damaged buds —"phenology anxiety"—and even the role of cherry blossoms in illustrating climate change (graph).
Yet, what has not beenexplored deeply is the way that the flowering and falling of individual petals—within a week—was used as a metaphor for the brevity of human life in militaristic, historic Japan. Time magazine terms this topic "the dark side" of cherry blossoms.
We all glimpsed something of this shadow in "The Last Samurai" (2003), the Hollywood version of the Boshin War (1868-1869). There, the dying samurai (Ken Watanabe) compares his brief life to that of the fleeting blossoms.
A real-life look, however, is available from the diaries of Japanese citizens during World War II. Here, I share translated passages of the thoughts of three from the winter/spring of 1945. They are Itabashi Yasuo, anavy pilot stationed in Java; Takahashi Aiko, the wife of a Tokyo doctor; and Maeda Shoko, a 15-year-old student in Chiran, southern Kyushu. Ms. Maeda and her classmates are in the labor service corps doing laundry, housekeeping, and sewing for kamikaze pilots awaiting their final missions.
The words of Mrs. Takahashi especially fit a Nikkei readership as she was born in 1894 and immigrated with her family to California in 1916 or 1917. There, she married and gave birth to two Nisei children before returning to Japan with her family in 1932.
The context for the 1945 entries below, known only in part by the diarists, is that Tokyo was firebombed on the night of March 9-10, killing 84,000 and rendering one million homeless. Additional bombings followed, of Tokyo and nearby Kawasaki on April 4, and of aircraft factories in Tokyo and Nagoya on April 7. Moreover, across early April, the last battle of the Pacific is raging on Okinawa, 400 miles south of Chiran (map; about five hours flying time according to Ms. Maeda). The leis two of the pilots are wearing may be intended as parting gifts for the people of Kikaishima, a landmark island in the Amami Islands that the pilots overflew en route to Okinawa. According to the islanders, the pilots dropped flowers (wikipedia.org).
"FEB. 11… CLEAR
"Today was the anniversary of Emperor Jinmu's ascension [to the throne as the legendary first emperor of Japan in 660 BC]. I was reminded of times past. It was the same day last year when I was training at Kisarazu [on the east shore of Tokyo Bay]. Everyone said something or other and then went outside. A few people in my unit stayed behind, and that group made a test flight. We worked ourselves into a funk and drank as though our lives depended on it and got roaring drunk. We went to the command center, put on our flight uniforms, and merrily danced around. There seemed to be a lot of us—Sergeant Yoshimatsu, Kumatani, Sergeant Sugano, and others. Morimura was there too…. We made our test flights, reeling from side to side, and then suddenly descended on Kizarazu Town and played around at super-low altitudes. All the people who flew test flights that night are no longer in this world. All have brilliantly scattered." [Here, a footnote adds that Mr. Itabashi uses the Japanese verb, 'chiru,' asin the scattering of a flower's petals.]
"APR. 10… TUESDAY
"It is finally cherry blossom-viewing time, but there aren't many blossoms this year, and it's rather sad. Yet the fact that there are any cherry blossoms at all for us to see this year is rather unexpected. It occurred to me that for the several tens of thousands of people who died in the bombing raids because they were in the home islands and not in the battle zones, last year's cherry blossoms were their last. As I did last year, I looked at our cherry tree from the Japanese room [a tatami room] on the second floor. I never get tired of looking at it, and I wondered wistfully whether I'll see these blossoms in next year'sflower-viewing season. I looked at them for some time, lost in my thoughts. Just when you think the cherry trees have begun to bloom, the petals begin to scatter, one by one, even when no wind is blowing. For no reason at all, I began to cry."     
"APR. 12…
"Today will be a clear-weather attack. They loaded us into a car with the divine eagles who will attack and not return, and we drove straight to the waiting aircraft… On the way, we sang "Sinking from the Sky" [Sora kara no chinbotsu] over and over. Together with our teachers we pulled the camouflage netting off the squadron leader's plane. The revolutions of the propeller on his plane, the one with a bomb on its belly, were fine. Motoshima's plane made a buzzing sound…. We climbed onto the starting car [in those days, when aircraft started their engines, their propellers would not always turn automatically, so many had to be started with a starting car] and went to the control tower to send off the pilots. When I turned around, the squadron leader and Motoshima, both wearing pretty Chinese milk vetch necklaces, boarded their aircraft and looked back at us. A plane covered with cherry blossoms taxied right in front of us. We thought that we too should shower the planes with cherry blossoms and ran back to the barracks…
"We picked as many cherry blossoms as we could and ran back as fast as our legs would carry us, but the planes had gone to the starting line and were about to begin taxiing down the runway. They were far away, and we were sorry we couldn't run out to them. Motoshima's plane was late and went to the starting line right in front of us. Then thesquadron leader's plane took off. It was followed by planes piloted by Okayasu, Yagyu, and Mochiki. The Type 97 fighters [obsolete planes dating from the late 1930s] wagged their wings from left to right, and we could see smiling faces in all the planes. The plane piloted by Anazawa… passed in front of us. When we waved branches of cherry blossoms as hard as we could, the smiling Anazawa, his head wrapped in a headband, salutedus several times.
  "Click… when we turned and looked behind us it was the cameraman, taking our pictures. When every one of the special-attack planes had taken off, we just stood there for a long time, gazing at the southern sky, which seemed to go on forever. Tears welled up in our eyes."       
—From "Leaves from an Autumn of Emergencies, Selections from the Wartime Diaries of Ordinary Japanese" (Yamashita, Samuel H., Univ. Hawai'i Press, 2005).
P.S. Two American ships were sunk by kamikaze at Okinawa that day. However, neither was caused by the plane types mentioned above (wgordon.web.wesleyen.edu). A cargo ship, the Minot Victory, was also struck, but not sunk, without fatalities (usmm.org). The Japanese would ultimately lose over 1000 kamikaze planes at Okinawa ("The Second World War," John Keegan, 1989.]