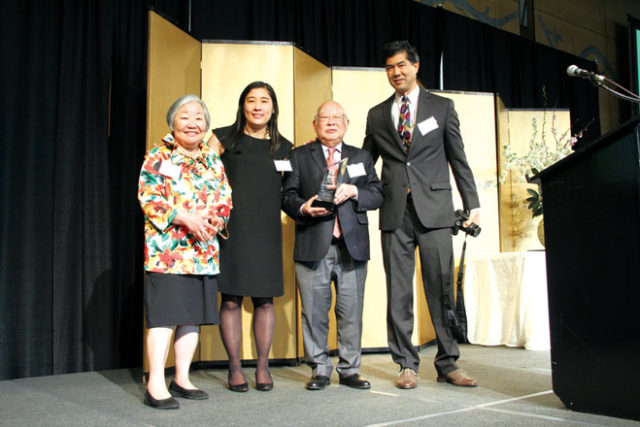 By The North American Post Staff
The 9th Annual Tomodachi Luncheon gathered about 450 community members at Seattle Center's Fisher Pavilion last Friday to support the Japanese Cultural & Community Center of Washington. The annual Tomodachi Award was presented to the Moriguchi family for their significant role in bridging relations between Japan and the Puget Sound region with their longterm community service.
"Everyday, I am reminded how fortunate I am for the company history and all the hard work that grandparents, father, aunts, uncles and cousins have done to build what the Uwajimaya is today," said Denise Moriguchi, who was appointed the new chief executive officer of Uwajimaya last month.
"I want to thank parents, friends and customers; we could not do this without all of you," added Tomoko Moriguchi-Matsuno, former chief executive officer of the company.
Uwajimaya will mark the 89th year after founder Fujimatsu Moriguchi began selling homemade fishcakes and Japanese food delivery in the Tacoma area. Moving to Seattle after World War II, the business has expanded in the last seven decades operating four markets, wholesale and an apartment.
Honoring the Moriguchi Family, Seattle Mayor Ed Murray also declared that March 31, 2017, will be the Tomio Moriguchi Day in Seattle.
"…under Tomio's leadership, Uwajimaya has continually grown and prospered and is a treasured part of Seattle's Chinatown-International District; and," the proclamation states. "We thank Tomio Moriguchi for his many years of tireless hard work and honor him for the important role he plays in Seattle's community."
Consul General Masahiro Omura, who announced that he will leave Seattle for his next assignment in April, also congratulated the Moriguchi family, who has contributed to build the strong ties in the community. He added that the consulate is pleased to support the local Nikkei organizations like JCCCW to develop the friendship among the community and the United States and Japan.