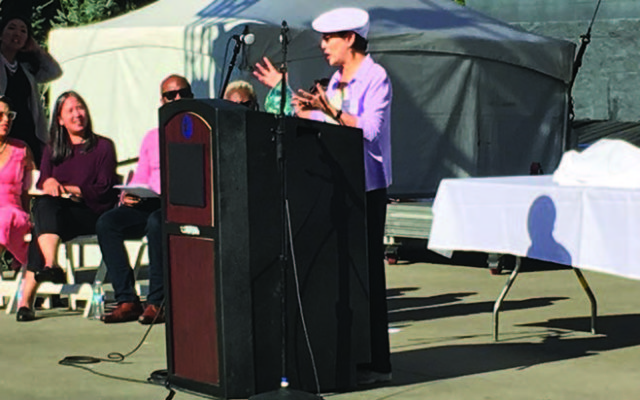 by Bruce Rutledge
The annual Mayor's Arts Awards program, held on the Seattle Center grounds the day before the Bumbershoot music festival, chose Assunta Ng, founder of the Seattle Chinese Post and Northwest Asian Weekly, as its 2017 individual cultural ambassador.
Ng delivered a humorous and self-deprecating speech, first saying, "You made a mistake," and declaring that Seattle Symphony conductor Ludovic Morlot, a fellow nominee, was her hero. She also pointed to Arts Council member and Wing Luke Executive Director Cassie Chinn and said, "You pulled some strings!"Ng has been in the newspaper business for more than 35 years and has won various awards and accolades for her commitment to informing the Chinese community and the Asian community at large with her publications.
Other winners of the 2017 Mayor's Arts Awards were:
● Cultural Ambassador (Organization) Seattle Music Partners for its free music programs for youth and one-on-one mentoring
● Arts & Innovation Courtney Sheehan, executive director of the Northwest Film Forum
● Emerging Leader in the Field Leilani Lewis of the University of Washington for her work as a creative catalyst with museums and on independent projects.
This year's award was designed by Nao Yamamoto, a Japan native who now lives in Seattle. She specializes in glass art.