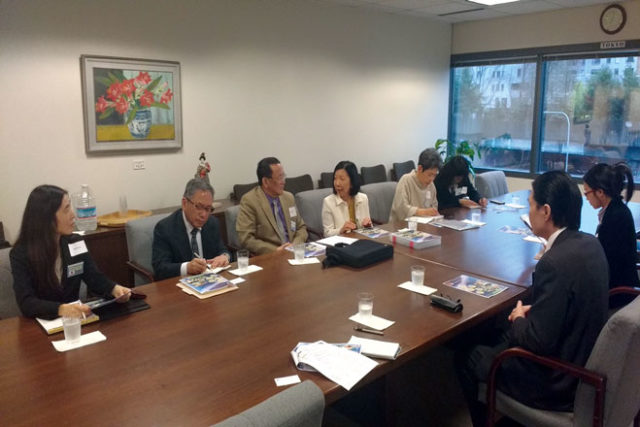 By Shihou Sasaki
The Japan Fair 2017 organizer hosted a kickoff meeting on Tuesday at Consulate-General of Japan in Seattle. This year, the event will be held on July 8 and July 9 at Meydenbauer Center in Bellevue.
As the community celebrates the tanabata (star festival) in early July, the event can be "an annual time that celebrates the spirit of coming together and the connectedness of community," said Yuka Shimizu, executive committee chair of the Japan Fair 2017.
According to the fair report in 2016, the first event successfully gathered over 15,000 visitors during the Labor Day weekend in September. The community festival carried the legacy of 18-year-long Aki Matsuri, which was operated by the Eastside Nihon Matsuri Association (ENMA).
This year, the Japan Fair 2017 will be operated by Hokubei Hochi Foundation. Shimizu said that she hopes the fair will be run by an independent non-profit group for future management.
She added that the fair will feature food/bento catering by the local Japanese chefs and will develop educational and cultural workshops. The main booths will be grouped in three categories as the previous year: "Art & Culture," "Market Place" and "Community Friends."
As to bringing more companies, groups and exhibitors from local areas and Japan, Shimizu said that the event will hopefully become a marketing venue for both United States and Japan. She also shared her hope and passion in helping to bridge the Seattle Nikkei and the Japanese community on the Eastside through such a community event.
"Our predecessors have built such community and legacy, and we have to preserve and succeed for the future," Shimizu said.
Consul-General Masahiro Omura also said that the event will be a great opportunity to introduce and share Japan's society, business and culture and hopefully to be continued with support.
More information can be found at www.japanfairus.org.
Community Confusion
The community has noticed and shared some confusion after hearing that a Japanese festival at Bellevue College is to be held. Allen Nakamoto, co-chair of Japan Fair 2016 and former vice president of ENMA, said both the JapanFair and the college festival are not operated or officially supported by the ENMA.