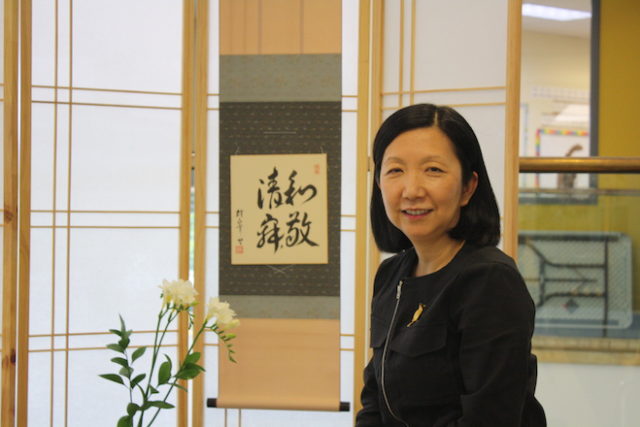 The Japan Fair began last year. We spoke with Yuka Shimizu, the executive chairperson for 2017, about connecting business and the community, a turning point in her life, and her plans for the future. Excerpts follow.
Interview by Noriko Huntsinger, Translated by Bruce Rutledge
Strong group of volunteers puts on Japan Fair 2017
Aki Matsuri, an event that introduced Japanese culture to the Bellevue area, finished in 2015, after an 18-year run. Japan Fair stepped up to fill the void. In its second year, the fair will be near Tanabata in July. Preparations are well under way, and right in the middle of it all is Yuka Shimizu.
"Tom and Katsuko Brooke operated the Eastside Nihon Matsuri Association to support Aki Matsuri," Shimizu said. "When they retired, a call for their successors went out. I joined as one of volunteer group members to support the event."
In 2015, Shimizu and the new volunteer group started "Japan Business Fair" inside of Aki Matsuri featuring recent business trends from Japan. The Fair was held with good results. In 2016, Japan Fair was kicked off by adding business-focused programs to Aki Matsuri's traditional art and culture theme. Shimizu teamed with Allen Nakamoto, a board member of the Nisei Veterans Committee, to co-chair the 2016 event.
Today, the volunteer group meets regularly for the 2017 event. They are in the midst of executing their plan for an attractive event. "We receive cooperation in all sorts of ways from Seattle's Nikkei community, the Japanese Consulate in Seattle and the local Japanese Chamber of Commerce and Industry," Shimizu said.
Shimizu works hard to further local ties to Japan and expects the next Japan Fair to strengthen those ties. "We've already started planting the seeds for next year," she said. "I want to have Japan Fair welcoming all kinds of people, young and old, with different cultural backgrounds."
Lessons learned during a few different years
Shimizu came to Seattle because of her husband's work. But she unexpectedly met with a situation that changed her life. "Right when I was launching Bellevue Children's Academy, my husband was diagnosed with cancer."
A stretch of days began where she went from school to hospital and back again. Her husband fought to recover, but died in 2002. Shimizu thought about returning to Japan, but her feelings of responsibility toward her students and staff kept her from leaving.
One day, about a year after Shimizu started the Bellevue Children's Academy, a visitor suddenly arrived at the school. It was then Uwajimaya CEO Tomio Moriguchi. "Are you Japanese?" he asked. "It's tough, but don't give up." With those words of encouragement, Shimizu was rescued from her despair. She started the private school with nine students. Somehow, despite the odds, she kept moving forward. "Moriguchi-san's smiling face settled my nerves," she recalled. "I thought, 'I want to be able to cheer up people like him someday.'"
Even when work is tough, smiles make everyone calm down. Smile is important enen when disciplining students who get sent to the principal's office. "I think the energy I got from Moriguchi-san is connected to the present moment," she said. "It's the same at home, at work and at school. Smile and everything will be alright."
Giving back to the community that nurtured her
When Shimizu first arrived from Japan, she put her children in an English as a Second Language (ESL) class. She wasn't impressed with the ESL curriculum that was almost like teaching toddlers, so she taught them English and math the Japanese way. Her children advanced so much, they were put in the gifted group. But there in the gifted class, the children were just expected to be advanced. Shimizu wasn't satisfied, so she started BCA. Shimizu had been gaining a reputation for her teaching method, which she shared with her friends' children.
Those parents encouraged her to form the school. Her curriculum was well-received, and today, the school serves about 700 elementary- and middle-school students. Another 300 take part in the Japanese program including BCA Saturday School. With a staff of 160, the school has become a big operation. The BCA method for teaching arithmetic was turned into a textbook called BCA Math. Educational groups from Japan have even come to visit.
"Today, the school builds STEM (science, technology, engineering and math) into STEAMD by adding art and design," Shimizu said. "It is said that about 70% of existing jobs are likely to disappear in the future. Education programs today have to encourage creativity and innovative thinking, instead of just teaching knowledge."
Shimizu's current challenge is to create a network. Through Japan Fair, she has come to be grateful for the Japanese American community here. "Once my husband died, things that were ordinary or usual stopped seeming normal. We don't know what is going to happen next. I want to make sure that the US and Seattle will be always the place where the bilingual children who graduated from BCA can achieve their full potential. I feel it is my responsibility to promote the current successful Japanese community in Seattle, which we received from former Japanese residents, to the next generation."
Shimizu's three children are now grown up: Her son is 31, and her daughters are 29 and 27. Each of them is thriving in the US. They can live comfortably because of the foundation laid by the Japanese and Japanese Americans who came before. Shimizu thinks a lot about supporting individuals who are making efforts to achieve new things, something that Moriguchi inspired in her with his comments. It's still in the planning stages, but she's considering forming a nonprofit called Asunaro. "Through Asunaro, I hope to support anyone looking to expand, from business to education." Shimizu said. "I'd like to see a lot of Japanese and Japanese Americans in the Seattle area become our community's leaders."
At last, she mentioned her future dream that she wants to give back something to her home country Japan, where she was born and grown. Shimizu's stage may be expanding from Seattle to Japan.
About Yuka Shimizu/ Founder and President at Bellevue Children's Academy
Founded Bellevue Children's Academy (BCA) in 1999 and Willows Preparatory School in 2014. Offers cutting-edge local education with an original curriculum that blends in Japanese learning concepts for elementary- and middle-school students. She also operates Japanese language programs for bilingual children including BCA's Saturday school. She serves as a director of the Japan-America Society of Washington, as a co-chair for the Seattle Symphony's "Celebrate Asia" event and is generally active in community- building.