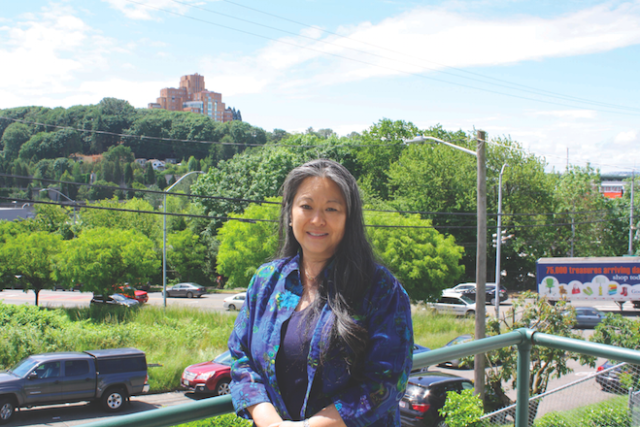 Karen Yoshitomi has been running the JCCCW since late 2014. Before that, she spent 20-plus years working for the Japanese American Citizens League (JACL). In other words, she's made a career out of building and nurturing community. We spoke to her about the redress movement, the importance of storytelling and keeping a closeknit community in the face of dispersion and gentrification.
Interview conducted by Bruce Rutledge
Learning about the camps
In Spokane when we were young, we were definitely in the minority and we felt the discrimination, but we didn't talk about our family history, and certainly not incarceration. When you met another Nikkei family for the first time, it was inevitably, were you in camp? Which one? We didn't recognize it for what it was.
For me, it wasn't until I went to the University of Washington and enrolled in the American Ethnic Studies program and the Asian Studies program. That was the first time. In Dr. Testuden Kashima's class we talked about incarceration and internment. By that time, my grandparents were living with us. My grandfather was in his 80s. It was a little bit too late to ask him what it was like. He would have been the perfect person to ask if he had been willing to talk about it. He was very bitter about the experience.
We had ample opportunity to talk to my grandmother after we started learning more. But I had to ask, as opposed to it being offered to us. My curiosity unfolded as I worked for JACL. At that time (in the late 80s), it was the very tail end of the redress movement. We were working with the Department of Justice to help find people who were eligible to receive redress. I got a chance to meet all these people who for years and years had not talked about their experience. We were able to do something to recognize the experience that they had. The apology (by then President Ronald Reagan) was very significant for a lot of these folks. It was too late for my grandfather. He had passed by then. But not for my grandmother, and not for my mom, uncles and aunt. My mom was a little girl in the 1940s. She was born in 1930, so she would have been 12.
The roots of the J
I think that if you look back in some of the founding documents of the J(the nickname for the JCCCW), they wanted to carry on the language, but also the culture. It started out as a Kokugo Gakkoo, which says something about it because that translates as "national language school." That's why the building was constructed not just as a school but as a gathering place. At the time, there was a lot of need for social support. The spiritual was covered with the churches. And they had these civic organizations. But what about for the kenjinkais (prefectural associations) or the gardeners' association or whatever clubs and groups that you had? They needed a place to meet, to conduct business, as well as to have events and gather to support each other. I think, essentially, the function (of the J) is the same as it was 100 years ago.
In the beginning, there was this insulation because there was so much discrimination out there and so much misunderstanding about the community. But the Japanese community today is very different. And there's a whole host of individuals who have an interest in Japanese culture, Japanese art, and Japanese language who aren't of Japanese ancestry. That's OK. That's wonderful. Maybe that's why it feels more open. There is that opportunity to open up because the interest and support are coming from a pretty broad spectrum of folks.
We have martial arts groups: judo, seido karate, shorinji kempo. And then taiko groups. There are three or four that use the small dojo to practice. Six nights out of the week, the small dojo and the large dojo are booked up, so sometimes in the evening, it's really hopping.
In the daytime, other entities use the facilities for meetings and training.
We receive public grants to help with preservation. If there are nonprofit organizations and public entities that want to utilize the facility, it's on a first-come first-serve basis. If you're a member, you can use it for free. If you're a nonprofit, there is a small fee. Most of the time during the day, we have something going on here.
There's a Japanese language library. Every Tuesday and Friday we have library volunteers coming in.
We have both English language and Japanese language books.
The importance of storytelling
The premise behind the Omoide writing group is the power of words.The JACL has a committee called The Power of Words. They point out euphemistic terminology because you have to set the context. When you talk about "evacuation," for example, it's a term that's misleading. In most people's minds, that's a humanitarian effort. "Forced removal" gets people thinking maybe it wasn't for their protection or their own good. Maybe there was something else going on. Omoide allows people to open up and talk about their own experiences in a setting that is supportive and safe. The other people in the room understand.
Most often, you hear the stories from the men's perspective, especially as it relates to wartime. But the women who are the keepers of the culture, they keep the family together. If you ask them about the hardships, you find out the things that they had to overcome in some cases were astounding. They are very rarely asked. Personally, they often don't feel like they've done anything that is noteworthy. They did what they had to do.
Creating a closeknit community
The Nikkei Community Network meets every other month on the second Thursday. It's currently chaired by Tomio Moriguchi. It's comprised of representatives from probably over 30 organizations and clubs, from the kenjinkais to the churches, Keiro Northwest, Nisei Vets. We all come together and share information. We try not to overlap. We do all kinds of fundraising events. We invite each other to our events, and on occasion, the network will host an event itself.
There is also an understanding that we rely very heavily on volunteers. There is a lot of crosspollination.
There is this effort under way – Friends of Japantown – to at least continue a legacy through education about what was here. Wing Luke is working on its walking tour. Lei Ann (Shiramizu, owner of Momo) is very active with Nihonmachi Night. Jan (Johnson), when she sells the Panama, I'm pretty sure that some way or another, will preserve the bathhouse.
Even though there's some dispersion, I think this next generation has an interest in not just preserving but sharing the remnants.
For a long time, the mentality was guardianship. We had to protect something, whether it's the language or the people – keeping others out. I think there was a thought that we had to protect our people. My feeling today is that shouldn't be the case.
At the Tomodachi Luncheon, the program lists the board and their titles. And this time, for me, instead of executive director, I asked them to put "custodian." Some people picked up on it. I mentioned it when I had a couple minutes to speak during the program. It's how I feel about working at this place. It's not just about making sure the lights are on. I'm not a guardian for this place. I'm a steward. I've been left with the responsibility and the privilege to maintain this place. But you can't just maintain it; you have to nurture it and help it grow. The growth is going to be in encouraging people to come here and utilize the facility.
In July, we have our summer camp. We have our All Things Japanese sale in August. If people have things that they would like to donate for the sale, that would be great. We're always accepting donations for the Hoseki Bako store. Nearly every day, there are people dropping things off – and it's cool stuff. It's bittersweet because no one in their family wants it and they are downsizing. One gentleman was a collector of cast- iron pots. He must have brought in 20 of them. It was so cool. Somebody brought in a bunch of lacquer bowls that were stamped "Made in Occupied Japan." That's one of the great things about this job.
About Karen Yoshitomi/ Custodian of the Japanese Cultural and Community Center of Washington
Born in Spokane, Karen and her family moved to Tigard, OR, before settling in Tacoma, where she went to high school. After majoring in psychology (abnormal and deviant behavior) at the University of Washington, she joined the JACL and was active in the redress movement. Three years ago, she took over at the JCCCW, where she oversaw creation of the Omoide writing group and continues to keep the facilities active with groups and clubs both day and night.