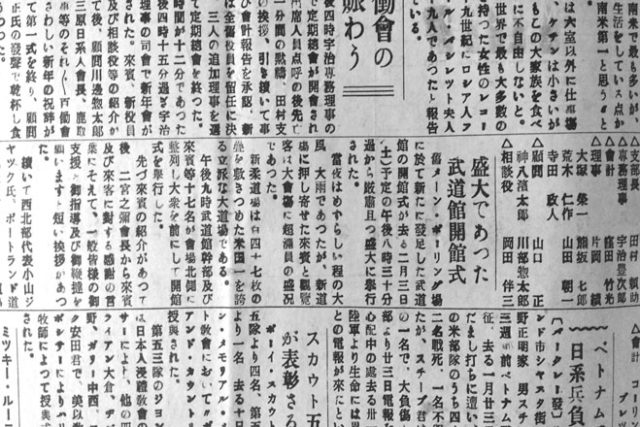 Original Issue Date: Jan. 31, 1968
Translated by The North American Post Staff
Budokan Judo Dojo celebrated its opening at the former Main Bowl site at 8:30 p.m. on Feb. 3. The new dojo attracted a full house of guests and visitors, though the night was unusually stormy.
The large, new judo dojo can proudly be the best in the United States, having 47 white-tatami mats.   
The opening dedication ceremony began at 9 p.m. as 17 dojo officers and guests lined up at the north side of the dojo.
After guest introductions, Dojo President Ninomiya gave a short speech expressing appreciation for community support and attendance of the opening ceremony.
Jack Koyama, who represented Judo Northwest; Shiraishi, from Portland Dojo, and other dojo representatives including those from Tacoma Dojo celebrated the Budokan's opening.
After the officers and dojo members participated in a practice session, Ninomiya, fourth black belt, and Kobuki, third black belt, demonstrated judo forms and techniques, which gave a strong impression to attendees.
After the demonstration, coffee and tea were served and a short film about judo was shown. The ceremony ended around 10 p.m.