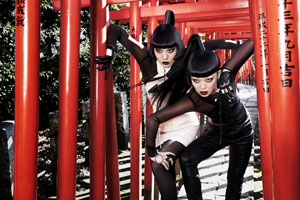 FOR REASONS of personal interest and for this column, I try to keep abreast of trends on the US/Japan interface. And so, today I will describe a young Japanese dance duo, new to me: Ayabambi. They matter because they are likely to be one of the entertainment groups showcased at the opening ceremony of the 2020 Tokyo Olympics, 38 months from now.
Ayabambi, a concatenation of the names of dance choreographer Aya Sato and her partner Bambi, were first introduced to the world in the promotional video for the Tokyo Olympics shown at the close of the Rio Olympics. If you missed them there, Ayabambi again caught world attention as lead back-up dancers for Madonna's 2015-2016 "Rebel Heart" tour.
Offstage, Ayabambi appear like any other Japanese youth one might see on trains. On stage, however, they transform into transfixing dancers. This is because they move their bodies in novel ways that are new to the world.
Ayabambi are edgy. They sport severe haircuts. They mainly wear black. They are a gay couple. They have tattoos.
Despite such societal rule-breaking—or perhaps because of it—in Japan they have made TV commercials for Adidas and Shiseido.
Internationally they have danced for fashion designer Alexander Wang, where according to Oyster Magazine they out-danced everyone. They have also modeled wedding dresses in Vogue. In total, they have 417,000 Google hits, of which 27,200 are videos.
Ayabambi's top three YouTube dance videos—shot in workshops as dispersed as London, Taiwan, and St. Petersburg—have drawn 6.1, 1.7, and 1.5 million viewers. Don't even think about clicking on them. In the words of one reviewer, to watch them is to fall into a black hole.
In a video interview, choreographer Aya describes her creative process as, "Every moment is art." That is, she thinks about and experiments with body movement every day, all day. When she brushes her teeth… When she wanders the display cases of a convenience store to buy a diet coke…
As a writer with a labyrinth of annual rings, I lack the words to describe Ayabambi's dance movements. I would call it "performance art."
By contrast, terms that have been applied to them on the web include voguing and vamping. Dictionary.com and Merriam-Webster define these respectively as (a) dancing to music in imitation of the poses struck by catwalk models; and (b) acting like a vamp: a woman who uses her charms to seduce or exploit men.
The Urban Dictionary definitions for the latter seem more apt. They include "applying heavy make-up for stunning effect."
Whatever Ayabambi is doing, it is working for them.