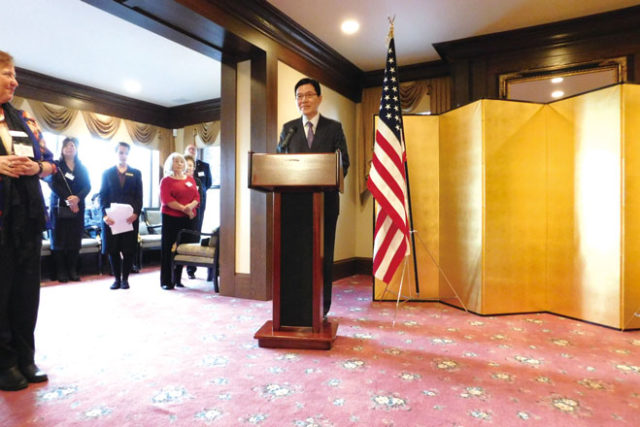 By The North American Post Staff
Over 200 local community members gathered at Consul General Masahiro Omura's official residence on Dec. 8 to celebrate the holidays and also the Japanese emperor's birthday. As one of the end-of-year events that gather community members, it was an opportunity to share a wrap-up of the year of 2016.
At the event, Brian Bonlender, Director of the Dept. of Commerce for the State of Washington, spoke on the recent relations between Japan and Washington State. Washington State Senator Karen Fraser gave a toast at the reception.
Japan and Washington State have recently signed a driver's license memorandum to exempt license holders from knowledge and skill examinations when traveling, which will be effective from Jan. 4.
More information can be found at <www.seattle.us.emb-japan.go.jp/itpr_en/00_000235.html>.
The reception also featured three Japanese businesses and their products including Mitsubishi Aircraft Corporation's MRJ, All Nippon Airways' business class meals between Seattle and Tokyo, and Japan Airlines' newly developed training programs for mechanics and flight crew with Microsoft.
More photos of this year in review can be seen on pages 8 and 9.