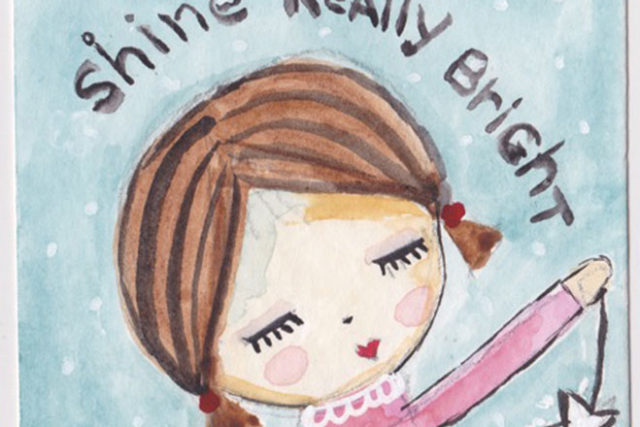 By Kay Hirai
The North American Post
Now that Thanksgiving is over and everyone is in a shopping mode, what comes to mind when you see people walking aimlessly around the crowded malls? Are you like me, thinking to yourself, "Here we go again…Everyone is trying to pick out presents for people, even though they have no clue what they like or need." I often wonder why so many of us feel like we have to continue this ritual year after year when many of the gifts will simply end up as dust collectors after this magical season is over.
To change things around this year, I decided to turn a page and think of holiday giving for myself and others in a more thoughtful way. As a result, I am pledging to stay away from the chaotic shopping malls and instead support local merchants or make things at home. It brings me great joy to create something for a special person that is sprinkled with a dose of my love and time. I also make sure that I don't forget people and animals that need a helping hand at this time of year. After all, they deserve some joy as well.
Here are my favorite things to do and to give during the holiday season:
Lemon Water Kit
Instead of coffee, I recently got into the habit of drinking warm lemon water every morning because I had read and heard so many good things about it. Lemon turns your water into an alkaline state and drinking it is good for cleansing your digestive system. I feel so much better when I start the day with a large cup of hot water with ½ lemon and a few drops of natural honey. It is an ideal gift for someone who has everything, so this is what I am going to do for that friend in my life. I purchased a clear glass cup with a handle, a lemon squeezer, and half-dozen lemons to put into the gift set. By the way, when you drink this out of a clear glass cup, it tastes sooo good! Try it. You will see what I mean.
How to Rock a Selfie Photo Shoot by Vivienne McMaster
<www.viviennemcmasterphotography.com>
Do you notice when it comes to picture-taking time, most people get self-conscious and say, "Oh no, please leave me out. I don't like to have my picture taken." Today, we find ourselves in this situation more and more. With the ubiquity of smartphones, people are snapping photos all around us, everywhere we go.
Most of us are self-conscious because we keep telling ourselves that we are not attractive enough to be in any photo. And, that includes me. When I found this online selfie class, posted by Vivienne McMaster, I decided to take it. Yes, this class is about self-portrait photography, but it is so much more. Vivienne  teaches by helping to identify the special gifts that you have to offer to the world. I am planning to give this class as a gift to my special friend who is filled with beauty inside and out, but feels self-conscious about her photo image. I can hardly wait to see her blossom!
How to Behave So Your Dog Behaves
Available at your local bookstore or Dr. Sophia Yin's website: <http://drsophiayin.com/howtobehave/for/pet-owners>
"Sophia learned that every pet needs a human who can lead. Not like a boss, but like a partner in a dance – someone who gives clear signals, rewards desirable behavior as it occurs, removes rewards for inappropriate behavior immediately, and sticks to the plan consistently until the new, good behavior is a habit."     -Dr. Sophia Yin-
I can guarantee that this is the best animal training book I have ever found. If you don't believe me, ask my dog Max. It whipped him right into shape! Dr. Yin's training method is so simple. Just follow it and you will see a remarkable difference in your relationship with your Fido in only two weeks! Just close your eyes and imagine you and your dog dancing around like a pair of pro dancers. It is a great feeling when this kind of bond can be established between you and your pet. Thank you, Dr. Sophia Yin!
Homemade Granola in a Jar
<www.agardenforthehouse.com/2014/11/organic-cinnamon-maple-granola>
I'm addicted to eating things I make in my own kitchen. Why? The simple reason is because I know exactly what's in them. I fell in love with granola when I found this recipe on the Garden for the Home website. Kevin Lee Jacobs does a superb job of giving clear directions on his hand-selected recipes. I love many of his recipes and enjoy trying each of the different varieties. Once you make this to-die-for recipe, put it into glass canning jars and tie the neck with a colorful ribbon. And, don't forget to add your own handmade tag to make your gift look like a million dollars!
I love eating this granola with creamy Greek yogurt from Whole Foods.
Give a Helping Hand
Who said you have to be wealthy to donate? Did you know that 80% of the active philanthropists in this world are middle- and low-income people? Every person who takes the initiative to organize an event in order to give back to our society is part of a powerful movement in social giving. It doesn't have to be done in a grand way; just do what you can.
Let me give you a little idea. Why not hold a small gathering of friends and family during this joyous season? Let them know ahead of time that you want them to help you raise money for a cause, about which you are passionate. Make it a fun and special evening and share the reasons behind why you want to help the animals, children, or the underserved population. You will be surprised at how many people will open up their wallets to help your cause. Remember, no gift is too small and you will feel good knowing that you are making a difference in creating a better world. You can check out the recent "Angels for the Animals" event we hosted to raise money for Pasado's Safe Haven, the Precious Life Animal Sanctuary, The Old Dog Haven, and Ginger's Pet Rescue by going to Studio 904's website: www.studio904.com. Click the Community tab.
Let me know if you liked any of my ideas. I am always on the lookout for new and creative things, so I would love to hear your ideas, too!
[Editor's Note]
Kay Hirai is an owner of Studio 904 Hair Design, an award winning salon with a unique business management concept. She is the author of Yumi's Life Lessons and Keiko's Journey. Kay's upcoming book, Sheer Determination will be available in January, 2017. More information can be found at www.keikokayhirai.com.