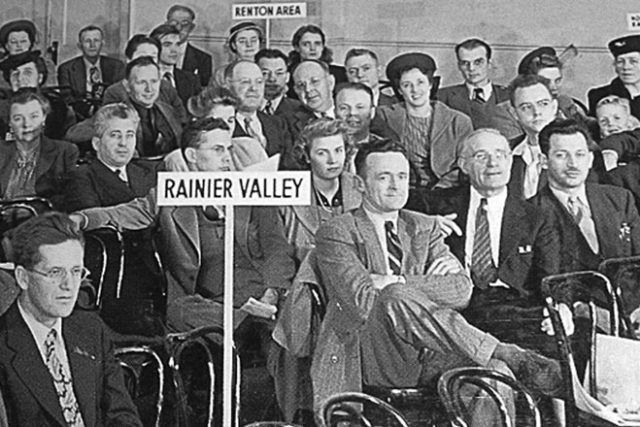 By Katie Fritcher
For The North American Post
This story was originally posted at the website of Group Health Research Institute at <www.grouphealthresearch.org> and written by Katie Fritcher, an administrative specialist. She uncovered this history while working on the Birnbaum Lecture, an annual public event that honors two Group Health founders, Hilde and Bill Birnbaum. The article tells the how Birnbaums helped two Sugihara survivors make Seattle their home.
The journey that brought me to Group Health began in Alaska, with detours through Nevada, Germany, and Iceland. Quite the route, but I love a good journey. People's movements are what I studied as a history student. Checking RSVP emails for the Birnbaum Lecture, I wasn't expecting to find a historically interesting story, but when Dr. Alan Golston mentioned his family's connection to the Birnbaums in his RSVP, I was intrigued. In subsequent correspondence with Dr. Golston, a fascinating story about an incredible journey unfolded. That journey, like mine, ended up at Group Health.
Departure: Warsaw, Poland—Arrival: Vilnius, Lithuania
On the morning of Sept. 5, 1939, Alan's father, Stefan Golston, didn't wake up thinking he would be fleeing his home in Warsaw. German soldiers had crossed the Polish border on Sept. 1, but he had no plans to leave the city. Stefan grew up during the Great War and saw German troops march through the streets of Warsaw. He remembered the Germans mostly leaving people alone and had no reason to suppose this time would be different. If he'd known that the Nazis were bent on wiping all Jews, including him, out of existence, he might have made other plans. All that was as yet unknown to Stefan.
So on Sept. 5, he said goodbye to his family and went as usual to the plant where he was an engineer. Around noon, the German bombardment of Warsaw began. When a German plane crashed nearby, the plant director shut down operations and most workers went home, their faces grim. Stefan, the director, and a few others decided to remain in the plant that night. Together they listened to radio news of German soldiers breaking through Polish defenses and marching toward Warsaw. The broadcaster implored all able-bodied men to leave the city immediately because the Polish Army needed them. To heed the call to arms wasn't an easy choice to make, but after phone calls with his family, Stefan decided to leave Warsaw to serve his country. As he fled in the director's car in the wee hours of Sept. 6, 1939, he left behind his family and friends, most of whom did not survive.
The Polish army Stefan meant to join never materialized. He chased rumors of them, but the soldiers fled or deserted under the threat of the German army. Not long after leaving Warsaw, Stefan and his companions had to abandon the car and trek across Poland on foot. War engulfed the countryside and Stefan had to avoid both the Soviet and German armies. On Jan. 1, 1940, Stefan finally crossed the Polish border into what was then independent Lithuania. The city of Vilnius became his temporary home.
For a time, life for Stefan normalized in Vilnius. He worked as an engineer and participated in Jewish social clubs founded by other Polish refugees. In addition to providing Stefan with a surrogate family, the clubs were places to exchange and discuss precious information. The members of Stefan's social clubs fretted over the increasingly murky situation in Warsaw. When the USSR incorporated Lithuania on Aug. 3, 1940, Stefan's fate looked bleak.
The threat of Germany grew greater every day and Stefan and many others searched desperately for a way out. Traveling anywhere in the USSR required a visa and a destination that was accepting refugees. The Dutch consul in Lithuania was allowing refugees to cite their destination as the island of Curaçao, a Dutch colony in the Caribbean, but he needed a visa. Stefan lacked the time and large sums of money a visa required, but he had to escape.
Departure: Lithuania—stop over: Japan—arrival: Seattle and Group Health
Stefan Golston's salvation came from an unlikely corner. In 1939, a man named Chiune Sugihara became the Japanese vice-consul in Kaunas, Lithuania. When the Soviet threat loomed stronger during the summer of 1940, Sugihara saw thousands of Lithuanians and refugee Jews trying to acquire a visa through official channels. He saw the danger the Jews faced from both the Soviet Union and Nazi Germany. So Sugihara decided to circumvent the hierarchy of the Japanese consulate and help Jewish refugees in the only way he could, by issuing visas.
In the short period of July 18 to Aug. 28, 1940, working 20 hours a day, Chiune Sugihara handwrote transit visas that helped 6,000 people. With these visas, people could travel across the USSR on the Trans-Siberian Railway, sail for Japan, and then make their way to Curaçao, Canada, or elsewhere. The Japanese consulate in Kaunas closed in early September 1940 and even as Sugihara's train was pulling out of the station, he continued to sign transit visas. Stefan Golston obtained one of those visas. With time and effort, he gathered the money for a train ticket, and finally sailed to Japan in April 1941. He was one of the last to make it out; in June 1941, the Nazis attacked the Soviet Union and occupied Lithuania within hours. Some of Stefan's friends who remained became part of the Vilnius ghetto uprising, and all became victims of the Holocaust.
Stefan eventually found his way to Canada and married Lydia, another "Sugihara survivor." In 1959, an engineering position at Boeing brought Stefan and Lydia to Seattle. As in Vilnius, the Golstons found a surrogate family in social clubs for Jewish refugees and immigrants. It was at a club gathering that they met Hilde Birnbaum. Anyone familiar with Group Health and its history knows the dynamo that was Hilde Birnbaum. With her usual persuasiveness, she convinced Stefan and Lydia to join Group Health and they remained devoted members until their deaths. Their son Alan grew up to be a Group Health cardiologist and his wife is a retired Group Health nurse.
All journeys lead somewhere and when Stefan left Warsaw in 1939, he could not have predicted where his would end. War took his family and home from him. But Stefan found a new family and home in Seattle and with Group Health.