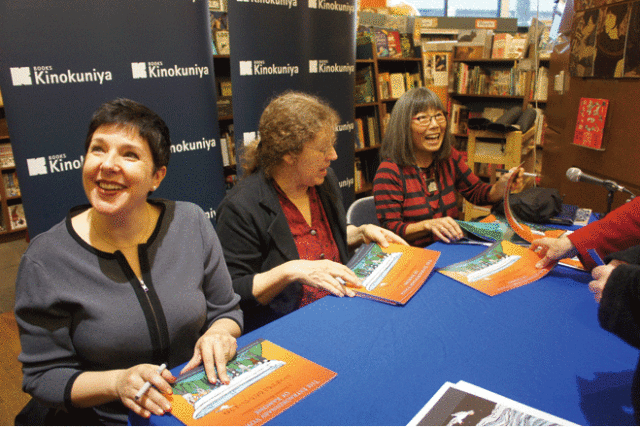 By Minami Endo The North American Post
A book event for "The Extraordinary Voyage of Kamome," a bilingual children's book about the friendship between American and Japanese high school students after the devastating earthquake in 2011 in Japan, was held at Kinokuniya Book Store in Seattle on Jan. 24. The co-authors and illustrator of the book hosted a story reading, book signing and presented photography of the boat.
After the tsunami hit the Tohoku region in 2011, a boat from Takata High School in Rikuzentakata in Miyagi Prefecture was washed out into the ocean. Two years later, the boat was miraculously found on the shores of Crescent City, Calif., and was returned back to Rikuzentakata by the efforts of Del Norte High School students. This began an international exchange program between the two schools.
A book tour was held around the Pacific Northwest in January including an appearance at Bellevue Children's Academy on Jan. 23.
"Donations from Seattle for the earthquake greatly helped the sufferers in Rikuzentakata," said Amya Miller, one of the co-authors and the previous Director of Global Public Relations in Rikuzentakata.
"When the tsunami happened, I wanted to help as third generation Japanese American. So when I heard about this project, I thought that telling a story was the way I could help," said Amy Uyeki, a Sansei and the illustrator of this book.
It has been five years since the earthquake happened. Miller said people are beginning to forget about it. The sweet story of the boat that came back to Japan all the way from the United States gave a hope to the victims and created a new bond between young American and Japanese people.
"The friendship of American and Japanese high school students broadens each others' horizons," Miller also said. "We must continue this beautiful friendship."
Profits from the book will be donated to the international exchange program between the two schools. More information can be found at www2.humboldt.edu/kamome or www. facebook.com/kamomeboat/.
Japan earthquake and tsunami commemoration events will be held in March including the "Remember, Repair, Prepare" event at 10:30 a.m. – 1:30 p.m. on March 12 at Teatro Zinzani in Seattle and "Songs of Hope: Final Memorial Concert" at 4 p.m. on March 13 at Willows Preparatory School in Redmond.
Details will be announced in coming editions.