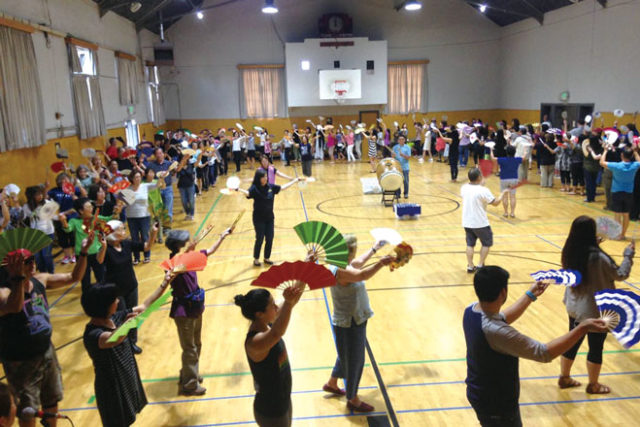 By Yuka Takeda
The North American Post
Seattle's Bon Odori season is approaching. The Seattle Betsuin Buddhist Temple held its Bon Odori practice session this and last week for the 2016 Bon Odori happening this weekend.
The practice session was held on July 5 – 7, 11 and 12 joined by diverse generations sharing an enjoyable evening. Two new songs for this weekend were also introduced.
"Bon Odori is a traditional summer festival, in which we honor our ancestors who have passed on, remember and appreciate all they have done for us, and celebrate their ongoing presence in the lives we enjoy today," according to Seattle Betsuin.
"It's a great Japanese culture and we want many people to know about Bon Odori," said Ron Hamakawa, chair of the event. "But most importantly, I want them to enjoy Bon Odori."
This annual event will mark the 84th year, a tradition that has been passed from generation to generation. Most of the songs are based on a Japanese style, but some songs are Americanized and transformed for the younger generations.
This year, two new songs will come out including "Soranbushi II," a modern version of Soranbushi, and "Omatsuri Ondo," an up-tempo type of dance music.
Last year, the event committee received feedback from participants who wanted to dance more. The event will play 17 songs for Saturday, the most songs ever featured, and 13 songs for Sunday to entertain thousands of visitors on South Weller Street in front of the temple in the Central District.
In addition to food booths, taiko performances and community exhibitions will be featured.
The Bon Odori events will continue around the Puget Sound area including the Strawberry Festival on Vashon Island this Saturday, the White River Buddhist Temple Bon Odori in Auburn on July 23 and Tacoma Buddhist Temple Bon Odori in Tacoma on July 30. The Olympia Bon Odori and Portland Bon Odori will follow as well.
More information can be found on the calendar page.