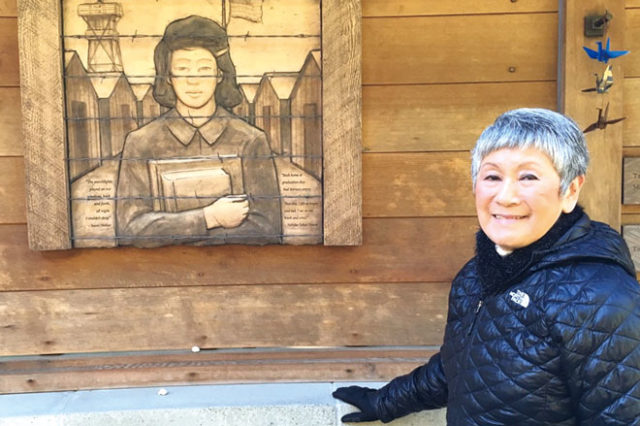 By David Yamaguchi
The North American Post
These days, Sansei are running out of knowledgeable elders who can tell us of the past. Thus, when I had a chance to join Eileen (Sakamoto) Okada, a longtime docent at the Bainbridge Island Historical Museum for lunch on Nov. 6 with her niece—my photographer Gwen Shigihara—I took advantage of the opportunity.
In sitting down with Mrs. Okada, it became clear immediately that she is a person whose words are worth writing down. A Seattle native and alumnus of the Maryknoll Catholic School—on the site of today's Swedish Cherry Hill Hospital—she described how her attending that school came about. She said, essentially:
"My siblings and I were outside playing, near today's Yesler Terrace neighborhood, and a car with nuns pulled up. They spoke fluent Japanese! They told my parents that they were opening a Sunday school, and asked if they would like for us to attend. In those days, the nuns were trained for missionary work in China and Japan. Seattle was included in the church's mission area."
Mrs. Okada and her husband Richard took teaching jobs on Bainbridge in 1962.
"It wasn't as if we had a choice," she said. For there were few jobs at the time.
During her early days on Bainbridge, Mrs. Okada remembers gazing across Puget Sound at Seattle, and crying. Her home and family were so near, yet so far. However, after three years, she and her husband felt invested enough in the island community to buy a house for their children and themselves. Her principal commented that he "likes it when their teachers buy homes. It means that they are planning to stay."
Mrs. Okada describes Bainbridge Island's back-story in the way that only a long-time resident can. She views it as a place where Japanese Americans are woven deeply into the fabric of society. Moreover, she considers it a community that embraces its JA history.
To illustrate her point, after lunch, Mrs. Okada led us to the Bainbridge Island Japanese American Exclusion Memorial, south of the present-day ferry dock. There, she described how planners had feared vandalism after its 2011 unveiling. There would be no one on-site to guard it.   
There has been none.
Moreover, Mrs. Okada commented how she has never been to the site, day or evening, when there was not someone else also visiting it.    
Mrs. Okada explains the island's ownership of its multi-ethnic history as a reflection of the shared origins of many Bainbridge families. Most of the islanders had first come to work in the Port Blakely sawmill [which opened in 1863]. In its day, it was the largest sawmill in the world! Wood was shipped from afar for processing at the mill.
Among the mill workers, there were many immigrants, including Swedes, Croatians, and Japanese. After the mill closed in the 1920s, many workers stayed to farm. Thus, today there are roads named "New Sweden Road" and "Koura Road"…
The farmers were nearly penniless, so out of necessity helped each other, across ethnic lines, to survive on the roadless island (they commuted by horse and ferry).
"We were poor, but never hungry," the mother of one of her students told Mrs. Okada. It was because the farmers had bartered among themselves—in the manner of farmers everywhere—vegetables for meat, for example. In this way, all could get by with little money.
That the Issei strawberry farmers had dynamite in their sheds was used as a pretext for arresting many after Pearl Harbor. Yet, all the farmers had dynamite in those days, for removing stumps from their fields.
Late in the war, there were two island meetings about keeping the decamped Japanese from returning. The first was widely attended—all simply wanted to know what the fuss was about. Almost no one came to the second meeting, after which the attempt was dropped.
Today, there is the Sonoji Sakai Intemediate School, after the man who donated the land for it. It is right next to the Woodward Middle School, named after Walter and Milly Woodward, famed publishers of the Bainbridge Review newspaper from 1941-1988.
Mrs. Okada also pointed out a feature of the memorial wall that I had not previously noticed, a detail that takes on more meaning now, post-election, than when she shared it.
Alternate panels of the wall are gently curved inward and outward, so that along its length the wall, viewed from above, is sinusoidal. This detail had required laborious steaming and bending of the old-growth cedar boards before mounting.
The artist's concept is that the path of history is never straight.