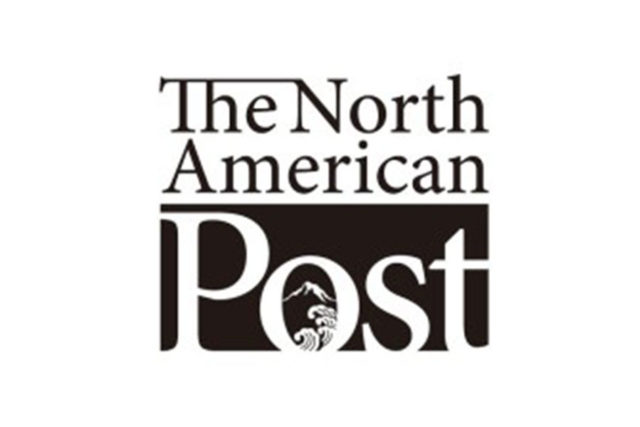 By Shihou Sasaki and Yuka Takeda
The North American Post
Japanese Ambassador to the United States, Kenichiro Sasae, recalled his former visits to Seattle for an international fishery negotiation or his spare-time experiencing rainy and sunny local weather.
But his recent visit here may be more memorable for the Japanese diplomat as he shared a huge smile to see a homemade cake saying, "Welcome Ambassador Sasae," in a community reception hosted by Japan-America Society of the State of Washington on Monday at NVC Memorial Hall.
"I felt like being back home," said Sasae, who made his first official visit to Seattle as an ambassador. "I am really happy to be here."
During his short stay in Seattle he attended a meeting by the National Bureau of Asian Research, a community reception and also a signage of the Memorandum of Cooperation between the Japanese government and Washington State for their economic and trade relations.
Sasae, who learned about Seattle's Nikkei history at NVC Memorial Hall, shared his thought on the U.S.-Japan relationship, which gained large contributions through the effort and sacrifice of Japanese Americans.
"I respect and admire them so much," he said. "I could guess and make my imagination about how difficult Japanese American survived and that also Japanese that were in the United States before World War II were a portent they eventually come together. So today, Japan and America are friends and allies. I feel so good about this relationship."
Joined by Lori Matsukawa of KING 5 News on Monday, Sasae spoke on the stage about a variety of topics from the Trans-Pacific Strategic Economic Partnership Agreement (TPP), cyber security, Okinawa and even Japan's immigration issue.
He also mingled with dozens of community representatives to build on friendships.
"The relationships between Japan and the United States is really important," said Tay Yoshitani, who introduced Sasae. "I'm glad that I can know what Ambassador thinks about this relationship."
The Nikkei Community Network (NCN) joined by local Nikkei organizations has held many such community receptions in the last several years including welcomes for former Japanese Ambassador Ichiro Fujisaki and also Seattle Mariners' former manager Don Wakamatsu and pitcher Hisashi Iwakuma.
The evening was originally planned along with a joint welcoming event by NCN for Mariner Nori Aoki, but he could not join due to his demotion to the AAA Tacoma Rainiers last Friday.
Despite the unfortunate move by the Mariners, the community, state and Japan's representatives understand that the baseball has taken an important role in building the community and the international friendship.
State Governor Jay Inslee said that Washingtonians are still proud of former Mariner player Ichiro Suzuki and are still counting on his hit record, which is approaching a historic milestone of 3,000 hits.
And, beyond Ichiro, Inslee added that Japan has been a great partner to Washington State. The state has had an over 50-year sister state relationship with Hyogo Prefecture as well as over a century of Japanese American history.
Washington State has recently dealt $6 billion a year in goods and service trading, which has created 33,000 jobs. Japanese companies have also invested in the state: among them, the Mitsubishi Aircraft Corporation's MRJ project and Fuji Chemical Industries' AstaReal for natural algae astaxanthin production.
The memorandum is a very unique situation and the second agreement between Japan and a state, following California State.
"Japan and Washington intend to further support and coordinate efforts in areas including climate change, energy, aerospace, life sciences, information and communication technologies, agriculture and value added forest products, disaster risk reduction, distribution, academic cooperation and trade and investment," the press release states.
"This is really an honor for our state with nation type of intention to grow the relationship," Inslee said.
Sasae shared his hope that the agreement will accelerate the relationship across the pacific and help the continuous growth of both countries.
"I would like to see more of Japanese business and people are coming to Washington State, and more people and business from Seattle and Washington State are going to Japan," he said.
"I want to see the Washington State will be leading the effort to grow."