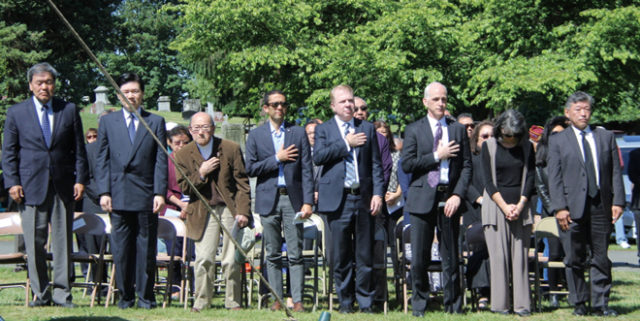 By Chinami Daima
The North American Post
The Nisei Veterans Committee and NVC foundation held its 71st annual Memorial Day Service at Lake View Cemetery in Capitol Hill to honor all who have died in service of their country. Around 130 community members and representatives participated in the event.
This year, Lieutenant General Stephen R. Lanza, Commanding General, I Corps Joint Base Lewis-McChord, was invited as the keynote speaker.
Lanza asked attendees to raise their hands if they were members of the 442nd regimental combat team, the 100th Battalion or the Military Intelligence Service and said, "Thank you for carrying on the great legacy of the U.S. military."
"Their service reminded us why we are able to enjoy daily life," he continued to say about Nikkei soldiers' humble tribute to the country.
Over a dozen wreaths & flower bouquets from community groups and organizations were placed in front of the Nisei War Memorial Monument.
Other memorial day related event photos can be seen on page 8.