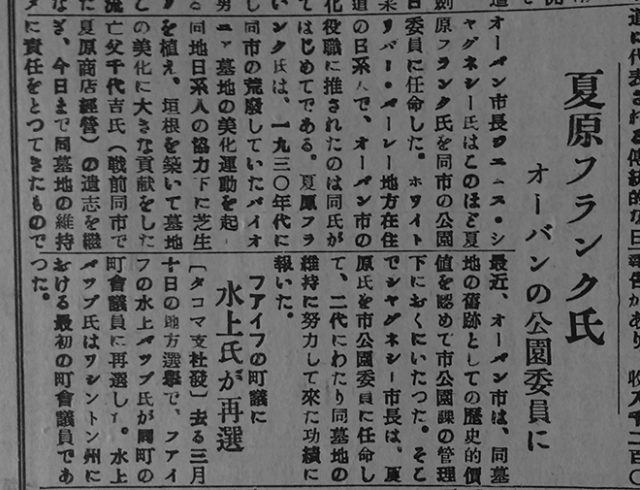 Original Issue Date: March 18, 1964
Translated by The North American Post Staff
Auburn Mayor James Shaughnessy recently appointed Frank Natsuhara to be one of the city's Park Committee members. Natsuhara became the first Japanese American to become an executive member for the city.
Natsuhara has served to maintain the Pioneer Cemetery in the city, where his father Chiyokichi and other local Nikkei residents led a cemetery clean up and renovation project in the 1930s.
The city recently recognized the historical value of the site and decided to transfer the cemetery to parks department management. Mayor Shaughnessy appointed Natsuhara to the park committee to honor his family who have served as cemetery management for two generations.
Mizukami Re-elected to Fife Council
Bob Mizukami was re-elected to the Fife City Council in the regional election on March 10. He is the first Japanese American city council member in all cities of Washington State.