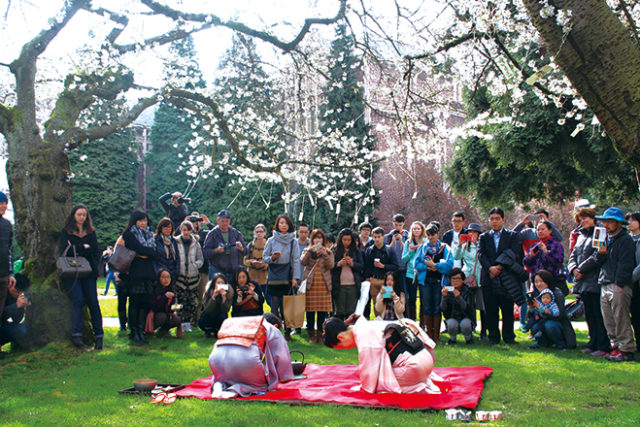 Photo by Maiya Gessling
The North American Post
Paul Atkins, associate professor of Japanese and Department Chair of Asian Languages and Literature, Chado Urasenke Tankokai Seattle and local calligrapher Shizu Usami were featured on Tuesday at a cherry blossom viewing and celebration at the University of Washington.
The trees were hung with calligraphy and students and teachers congregated in the Quad to listen to Atkins' remarks on cherry blossoms in Japanese waka poetry and to watch a tea ceremony demonstration.
"We see the cherry blossoms not only with our eyes, but with our minds. Poetry gives us a cultural lens through which to view them," said Atkins.
The cherry flowers have bloomed, particularly yoshino trees, around the Pacific Northwest. The cherry blossoms can also be seen in Portland, including dozens of trees along the Willamette River near the Japaense American Historical Plaza.