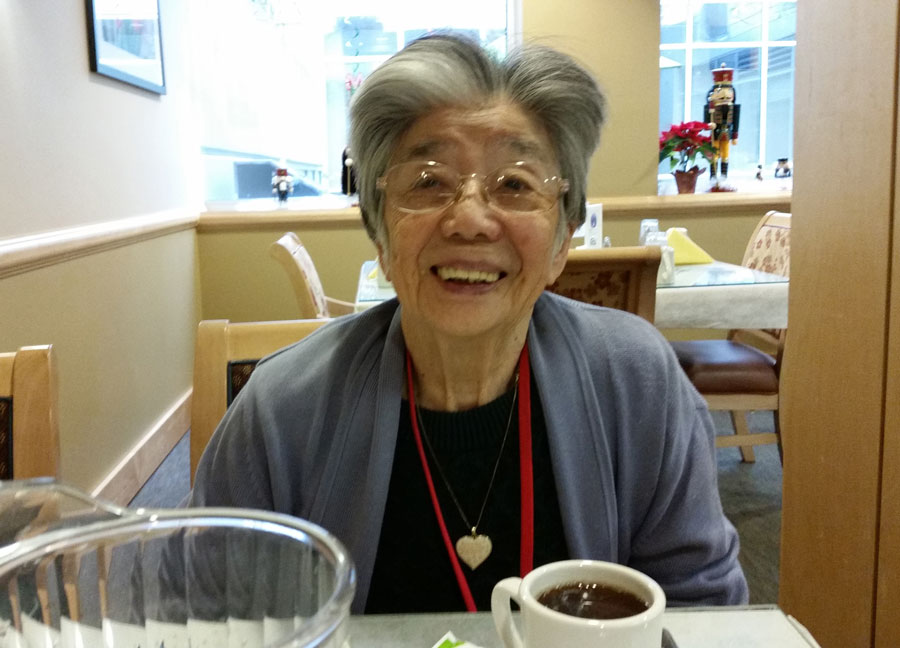 Born in Puyallup, WA to Kameki & Shizuko Sakata (Iwakami) in 1923 with the aid of a midwife, Agnes spent her early years in the Seattle and Puyallup areas. As a child, she was a Maryknoll student in Seattle and was later taken to Japan where she spent her youth in the Hitoyoshi/Fukuoka regions. As a young adult, Agnes married a Japanese soldier but was widowed shortly thereafter. During WWII, she spent time in Japan and China, working to help care and feed her siblings during difficult times. Unbeknownst to Agnes and the family, her father was being interned in America. After the war, Agnes' bilingual skills proved valuable working as an interpreter amid the US occupation to rebuild Japan.
Agnes returned to America in her thirties following her sisters and started a successful career as an apprentice lithographic stripper at Craftsman Press, earning her journeyman title as the first female in 1971. During this time, she took on the role of family matriarch helping to raise and guide relatives who immigrated to the USA under her sponsorship and care. Taking ownership of an apartment at a young age, Agnes had a keen business sense and as an astute bookkeeper, knew how to stretch a dollar.
Agnes was a devout Catholic. Being raised in Japan where Catholicism was mostly shunned, she was not deterred and she practiced her faith religiously. Back in America, she was a dedicated parishioner of Seattle's Immaculate Conception Church, and she eventually moved to Ballard to spend over 45 years as a parishioner at St. Alphonsus. Never missing Sunday Mass, Agnes lived by example and didn't stray from her high moral standards. She loved animals, gardening, weaving, and her Seattle Mariners.
In her later years, realizing that her memory was on the decline, she chose to participate in a Memory Study at the UW in partnership with Group Health/Kaiser. Agnes has donated her brain to the science and exploration of Alzheimer's disease. Despite her natural memory loss, she always maintained a sly sense of humor. Seizing every opportunity for a laugh or to share a family story, you'd never know what tale she would remember or what embarrassing memory she would bring up.
Agnes never had children and always said her job was to help raise her many nieces and nephews. Agnes is the last of her generation having outlived three sisters and one brother. She is survived by sister-in-law Toshiko (Japan) nieces & nephews Midori, Ritsuko (Shiro), Shinjiro (Vo), Amy (Roger), Arthur (Fujiko), Alisa (Jay), Vernon (Maria), Kaori, and Michinobu. Great nieces and nephews Akiko (Tony), Richard (Kay), Ryota, Ayako (Matt), Kenichi, Terumi, Ryo, Miyuki, Rika, Sarah and Kyle and great-great niece and nephews Hana, Rocco and Godmother to Enzo and Nico.
We always told Agnes that despite her yearning to see her departed siblings, God wasn't ready for her mischief. She is now reunited with her loved ones she has longed to see. She will keep the heavens entertained and cause mischief to her heart's content. Heaven has a special angel in Agnes.
Graveside services was held at Holyrood Cemetery in Shoreline on January 8th. In lieu of flowers, donations may be made on her behalf to St Alphonsus Church in Seattle or St John of the Woods in Tacoma.