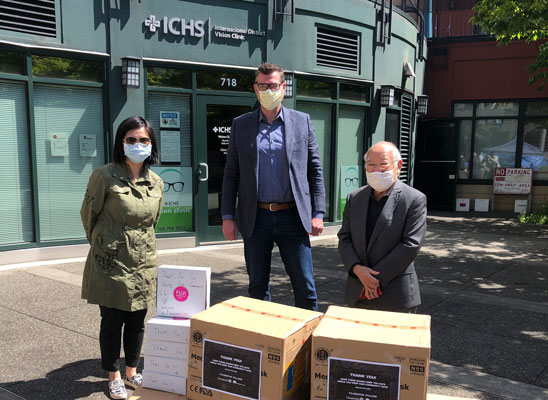 DA LI Development USA and Uwajimaya are donating 2,500 N95 masks and 15,000 surgical masks to health care providers, essential workers, and elderly residents in the Chinatown-International District (CID). Both DA LI and Uwajimaya are businesses that operate within the ID neighborhood.
"We are living in an unprecedent and uncertain times with the COVID-19 pandemic in our community. We were heartened to see our neighbors, agencies and businesses coming together to support each other, small businesses, and those who are more susceptible to the corona virus. We are honored to be able to do our part and contribute to the wider community support." stated Tomio Moriguchi, former CEO, Uwajimaya, Inc.
"We made a conscious decision to source and donate N95 masks and surgical masks to our local essential workers and vulnerable residents, after noticing the scarcity and difficulty they were experiencing in acquiring the masks. We quickly reached out, in late March, to our networks to source and order the N95 and surgical masks for our CID community. it took over a month to receive these shipments because of the difficulty in procuring personal protection equipment (PPE) worldwide" stated Kevin Hsieh, Vice President of Development, DA LI Development USA.
This donation will be provided first to organizations with health care workers who are working tirelessly to keep us healthy and safe. They will then donate the masks to frontline staff who are working to protect vulnerable residents and keeping CID community functioning. Organizations receiving donations are International Community Health Services (ICHS), ICHS Legacy House, Seattle Chinatown International District Preservation and Development Authority (SCIDPDA), ACRS Food Bank, Interim CDA, Seniors in Action, Nikkei Manor and Kawabe House.
DA LI Development USA, LLC is the American subsidiary of DA LI Development Co. Ltd., a publicly traded Taiwanese company, focused on large-scale real estate development. It is the developer of the Koda Condominium at 5th South and Main Street, and recently announced its partnership with Fujimatsu Corporation, real estate company that Tomio Moriguchi owns, to build a 27-story apartment/hotel complex on the northeast corner of 5th Ave. and Jackson St.