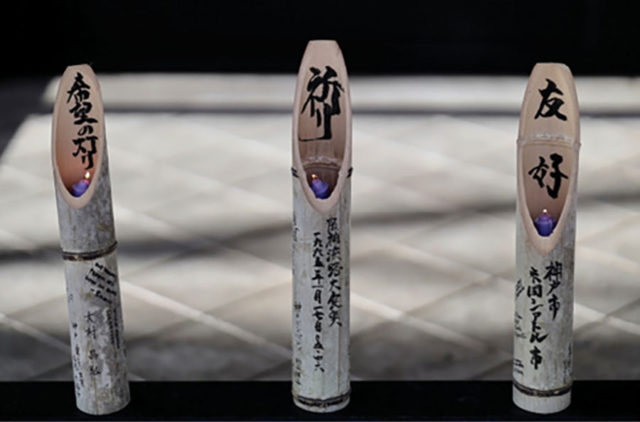 On January 16th, representatives from the Seattle-Kobe Sister City Association, Kobe Trade Information Office, Hyogo Business & Cultural Center, Consulate General of Japan, and Japan-America Society of the State of Washington gathered to reflect on the Great Hanshin-Awaji Earthquake, which occurred on January 17, 1995, and remember the victims of this natural disaster.
The ceremony was held at the Kobe Bell on the Seattle Center grounds, located north of the International Fountain and south of the Opera House. Participants lit candles., formed a ring around the Kobe Bell in memory of those who perished in the 1995 disaster and held a moment of silence at 12:46 p.m., which corresponded to the moments of silence and ceremonies taking place in Kobe in the early morning of January 17. The Kobe Bell was a gift from the people of Kobe to the people in Seattle in 1962 for the World's Fair and has been an important gathering point for our Kobe and Japan community.
Karin Zaugg Black, chair of the Japan-America Society of the State of Washington (JASSW) and former president of the Seattle-Kobe Sister City Association, experienced the Kobe earthquake and recalls it as a major event in her life. "I can't believe it's been 25 years since the Kobe earthquake, since for me the memories of that time are so clear," Karin said. "I am so proud of how the City of Kobe and people of Kobe have used their experience to teach others about disaster preparedness and community volunteerism. At the same time, I am proud of our strong sister city, sister port, and sister state ties with Kobe and Hyogo Prefecture, through good times and bad, over 63 years strong now this year."
Stacey Jehlik, International Affairs Director of the City of Seattle, joined the ceremony with representatives of each of the hosting organizations.