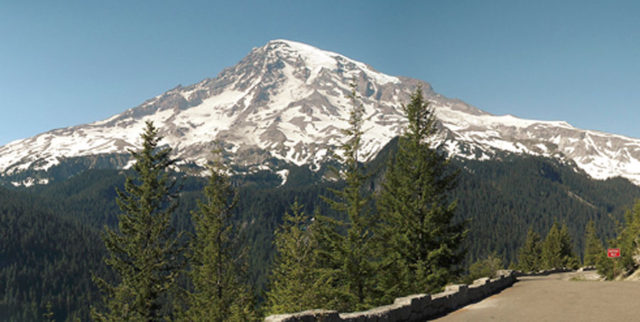 By David Yamaguchi, The North American Post
As all Seattleites know, once we get into mid-July, we are slated for clear weather until mid-October. It is our season for road trips.
I raise this topic because this coronavirus summer is especially well-suited for one-day drives throughout Puget Sound. Of such trips, the very best we have is the loop around Mount Rainier.
The classic Mount Rainier loop runs counterclockwise around the mountain from Puyallup through Longmire, Paradise, and Sunrise, and ends at Enumclaw. It is a world-class trip that as locals we don't take often enough. Commonly, we reserve it for when we have out-of-town visitors. However, if it has been years since you last completed it, consider driving it this summer, for your family and yourself.
The main reason for visiting Mount Rainier this year is that travelers are not flying or cruising into Seattle these days. SeaTac reports a 76% decline in airport screenings from 2019 levels during the week starting July 12. This greatly reduces the guided-tour bus and van traffic from downtown hotels to the national parks.
Last summer, as a driver/guide for Japanese tourists, I drove all or part of the Mount  Rainier loop a half dozen times. These trips were sufficient to experiment with it.
Regarding the loop, the first question that comes up about it is does it make sense? While some visitors drive to and from Paradise by the same Puyallup-Longmire route—I remember my dad doing so in my youth—today Google Maps tells us that the travel time to complete the loop trip is about the same as that needed to go and return by the same route. Accordingly, as life is short, I vote for the loop.
The loop is interesting in part because Mount Rainier looks different on its different sides. This reflects the varied paths that individual lava flows, which form its "ribs," followed over time.
Once one decides on the loop, question #2 becomes, "counterclockwise or clockwise?" The counterclockwise drive is best suited for clear mornings when the "mountain is out." It starts by taking the I-405 exit from I-5 approaching Southcenter. From there, one turns south on highway 167 to Puyallup. This route takes us "out in the country" quickly, away from efficient-but-boring I-5. Also, through a quirk of nature, it allows alert travelers to catch a fleeting glimpse of the Great Wall of China.*
After stopping in Puyallup to pick up lunch and snacks at a grocery (bathroom stop #1; buy enough for all day), drive through Eatonville to Longmire (stop 2); then to Paradise (stop 3), on the mountain's south flank at 5,400 feet (1646 m). From Paradise one returns via Sunrise—on the volcano's northeast flank—and the towns of Greenwater (ice cream), and Enumclaw (large stores available again).
The joys of this counterclockwise route are watching the mountain grow outside the car windows along the entire route, and arriving at Paradise—the jewel of the park—quickly. There, the wildflowers are at their peak from mid-July to early August.
Along the way, it is worth stopping to take in the view at nearly every scenic vista past Puyallup. This is largely because Mount Rainier is a rare park that began with a master plan, rather than a preexisting road system. Thus, the road takes you to many outstanding sights that take your breath away.
On cloudy mornings, when the clouds may or may not part mid-morning, taking the reverse, clockwise route is smarter. Here, keep in mind that the general goal of the drive is to see the shining mountain up close. The weather tends to be clearer on the Sunrise side as it is downwind of the clouds-blocking mountain. In cases of doubt, as this is the 21st century, we can check the Mount Rainier cams online. Sometimes I also choose to cross Lake Washington for an unobstructed, big-picture view of weather conditions before leaving the city.
Across the day, I recommend three hikes away from the car, for those able to walk on inclined trails. These include the first part of the "Trail of the Shadows," at Longmire, to the old log cabin in the forest (1/2 hr.);** hiking above Paradise, to the highest trees at Panorama Point (eat a picnic lunch there; 2 hrs.); and the Grove of the Patriarchs (huge, old trees; 1 hr.).
Above Paradise, bring binoculars to see the climbers advancing farther upslope on the vast mountain to Camp Muir.
At first, I described these tiny, crawling creatures to the Japanese as "ari-mitai:" like ants. I translated from the English expression.
They corrected me.
"Kuro-goma-mitai desu ne." You mean like black sesame seeds (on white rice).
Also be certain to take the short trails to see the roadside waterfalls, Christine Falls and Narada Falls. Both are only partially visible from the parking lot.
Among inns, I recommend hanging out only in the old Paradise Inn, where they serve "the best expresso at Mount Rainier." On Sundays, they feature a pianist.**
Not incidentally, caring for this inn is how famed peace activist, Floyd Schmoe, got his groove back after serving as a stretcher bearer in France during WWI (SJ, "Houses for Peace," Jan. 2019). His picture is on a sign in the parking lot in front of the Paradise Ranger Station.
I also have a soft spot for the tiny Longmire Museum, which features quaintly stuffed versions of the animals one may see later in the day.** The tree-ring exhibit there, outside the rest rooms, is also exceptionally detailed.
While the entire loop from Seattle can be completed in ten or eleven hours—as my fellow guides and I did for the tourists last summer—such a trip feels rushed. A more leisurely 12-14 hour trip, ideally with two drivers—like the one I made with my Boston cousin late last year—is better. Afterwards, as it is really too much to cook dinner, why not pick up Chinese take-out in the International District? Order in advance from the car when one is still 30-40 minutes out.
For perspective, I first fell in love with much of this loop trip as a high school student, in the 1970s, when I spent two summers working at Mount Rainier on student programs. Those summers changed the direction of my life. I went to UW forestry school, and became a forester. Along the way and across the decades, I would see many a forest and national park, in the US, Canada, and Japan. Yet somehow, I found that nearly all of these are but candles compared to the brilliant mountain that I first got to know at age 15.
*The Great Wall Mall.
SAFETY. People have died on the slopes above Paradise. Thus, keep in mind high-altitude weather conditions, which can be like Seattle in winter. Even in summer, it's a good idea to have a rain jacket, and hats for sun and cold. Hiking boots and trekking poles are useful for walking on slippery, melting snow and ice. Sunglasses (for bright snow), sunscreen lotion, sufficient water, and plentiful snacks are the main items people tend to forget. Note that if your party will split—some hiking, some not—then be aware that mobile phone coverage in the park is spotty. This also means that meeting times must be coordinated with actual watches.
**SPECIAL NOTES FOR 2020. The park is open, including public bathrooms, but its visitor centers are closed. See the Mount Rainier website for updates (https://www.nps.gov/mora/index.html).
My guide friend, Kay Ishii (SJ, Aug. 2019), reports that the Paradise parking lot was full with locals at 10:00 a.m. on Sat., July 11, as no one can fly. Thus, on weekends I recommend starting from Seattle at 6 a.m. (to park in Paradise by 9:00, not tarrying en route). Alternatively, try the contrarian clockwise route, starting from Enumclaw and Sunrise, to offset in time and place from the crowd.