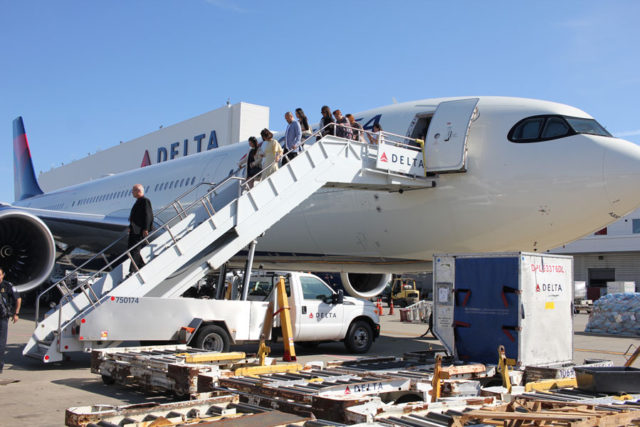 Delta Airlines launched its newest widebody airplane, the A-330-900neo for its flight from Seattle to Narita in October.  Along with this A-330-900neo, the company plans to add an additional 34 other A330-900neos to its fleet. The A330-900 can carry a total of 281 passengers. The Delta One Suite serves as the plane's first class with 29 compartments. Each has a bed that can completely flatten out, and a door that allows easy access to the aisle. The compartment also has a TV, personal storage and memory foam cushions.  Next is Delta's Premium Select seats. The main difference between the premium seats and a normal economy class is the reclining space. With the premium seats, you have over 7 inches of recline along with an adjustable leg/head rest, a TV, and even water bottle storage. There are 28 Select seats in a 2-3-2 configuration. When you'd like to get a little better sleep or more personal space, the extra width makes a huge difference.
After the Select seats, there are the Comfort+ seats. These seats have a little extra legroom with five inches of recline. Along with 34 inches of pitch, each has a dedicated overhead bin space. For those who do not know, seat pitch is the space between one point on a seat and the same point on the seat in front of it. In front of your seat, you also get a little pocket space. There are 56 seats included in the Comfort+ area. Lastly, there is the Delta Main Cabin or the plane's economy class. Along with all the other seating areas, it includes memory foam cushions and a TV. The main cabin has the most seating out of any of the other areas, with 168 seats.
Along with the plane's various seat choices, the airline continues to upgrade in other areas. The plane features its latest engine, the Rolls-Royce Trent 7000.Impressively, even with its heavy weight, and extra drag resulting from the wider fan diameter, Delta reports that the engine will produce a 20-25% lower fuel burn than previous aircrafts. With this, Delta says that the aircraft's carbon footprint will be much smaller.